What to Know
Nine people were killed in a shooting at a Valley Transportation Authority rail yard in San Jose
The suspected shooter, identified as a VTA employee, died of a self-inflicted gunshot wound
A reunification center for people impacted by the shooting has been set up at the Red Cross, 2731 N. First St. in San Jose
Nine people were killed after a shooting Wednesday at a Valley Transportation Authority yard north of downtown San Jose, according to authorities.
The Santa Clara County Sheriff's Office confirmed seven people died at the scene. Two others were taken to Santa Clara Valley Medical Center in San Jose where they later died of their injuries.
The victims, many of them longtime employees of the transit agency, were identified late Wednesday by the Santa Clara County Medical Examiner-Coroner's Office as Paul Delacruz Megia, 42; Taptejdeep Singh, 36; Adrian Balleza, 29; Jose Dejesus Hernandez, 35; Timothy Michael Romo, 49; Michael Joseph Rudometkin, 40; Abdolvahab Alaghmandan, 63, and Lars Kepler Lane, 63.
Their jobs included bus and light rail operators, mechanics, linemen and assistant superintendent. One had worked for the transit authority since 1999.
The gunman also died at the scene, officials said.
"This is a horrific day for our city, and it's a tragic day for the VTA family," San Jose Mayor Sam Liccardo said. "Our heart pains for the families and the co-workers because we know that so many are feeling deeply this loss of their loved ones and their friends."
Several 911 calls reporting a shooting at the VTA yard came in at 6:34 a.m. PT, drawing a large law enforcement response that included the San Jose Police Department and the Santa Clara County Sheriff's Office, which is located near the VTA site.
Santa Clara County Sheriff Laurie Smith said her deputies and San Jose police officers arrived quickly after the initial 911 calls.
"When our deputies went through the door, initially he was still firing rounds. When our deputy saw him, he took his life," Smith told reporters. Deputies "were going through hallways saying, 'Sheriff's office!' He knew at that time that his time for firing shots was over."
Deputies did not exchange gunfire with the shooter, Smith added.
Several law enforcement officials identified the gunman as Samuel Cassidy, 57, an employee of the VTA. A motive for the shooting was still under investigation. Smith told TODAY show in an interview Thursday morning that the gunman was armed with two semi-automatic handguns and 11 loaded magazines.
His ex-wife, Cecilia Nelms, told The Associated Press that Cassidy had a bad temper and would tell her that he wanted to kill people at work, "but I never believed him, and it never happened. Until now." An ex-girlfriend of Cassidy, who asked to remain anonymous, told NBC News she thinks he's "not mentally stable." She said she was shocked, but not totally surprised, when she heard he was responsible for the shooting.
Three minutes after gunfire erupted at the rail yard, a fire was reported at the suspects home on the 1100 block of Angmar Court in San Jose, Smith said. Based on the timeline, Smith said the gunman either set the fire off remotely or "had someone else do it." Investigators told NBC News there was ammunition inside the home and firefighters smelled an accelerant when they arrived.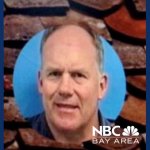 Davis said a bomb-sniffing dog detected possible explosives at the site which prompted authorities to call in the Santa Clara County Sheriff's Office bomb squad. The FBI and Department of Alcohol, Tobacco and Firearms also responded. Authorities spent the entire day combing through the facility to make sure there weren't any explosive devices on the premises.
Smith told TODAY co-anchor Savannah Gutherie that investigators found detonator cords and other bomb-making materials in the gunman's locker, calling the items "the precursors to an explosive."
Gov. Gavin Newsom visited the site and spent time with families of those impacted by the shooting. He then spoke emotionally in front of a county office where flags flew at half-staff, and lamented the "rinse and repeat" nature of American gun violence. He said he felt a "sameness" and "numbness" in the wake of yet another mass shooting.
"I feel like this happens over and over and over again. Newsom said. "It begs the question: What the hell is going on in the United States of America?"
President Joe Biden ordered flags lowered to half-staff and urged Congress to take action on gun violence: "Every life that is taken by a bullet pierces the soul of our nation. We can, and we must, do more."
The Red Cross Center at 2731 N. First St. in San Jose was serving as a reunification center for VTA employees and families who may be looking for each other, sheriff's officials said. It was moved from the county building at 70 W. Hedding St.
Family members of VTA employees also can call a hot line for information at 408-321-7550 or 408-299-2311 for a live person with the sheriff's office.
VTA light rail service was suspended at noon and bus bridges were established, officials said.
Liccardo said San Jose elected officials and community members will hold a vigil for the shooting victims at 6 p.m. PT Thursday in front of City Hall.
Working Partnerships USA has set up a fund to help victims of the shooting. Tax deductible donations in support of victims and their families can be made through Working Partnerships USA's Union Community Resources program.
PHOTOS: Mass Shooting Leaves Casualties at VTA Rail Yard in San Jose