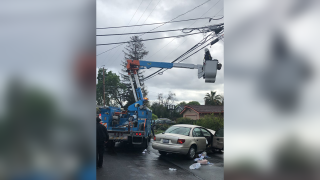 An accident that knocked out power in an area of Concord took the life of an 18-year-old man, Concord Police announced on Saturday night.
Officers were dispatched to the area of Mohr Lane near Nuala Street at approximately 4:38 p.m. after receiving a report of a vehicle versus a power pole collision.
The driver and sole occupant of the vehicle was transported to a nearby hospital where he succumbed to his injuries, police said.
Police and PG&E had closed the area to restore power after the accident.
No further information is available at this time and the collision is still under investigation, police said. Any witnesses are asked to call traffic Officer Parsley at (925) 603-5963.
Copyright BAYCN - Bay City News