Guns drawn, sheriff's deputies on Monday morning surrounded the California Grand Casino in Pacheco looking for a robbery suspect who wore a Halloween mask, orange gloves and was armed with a semi-automatic rifle.
Contra Costa County Sheriff's spokesman Jimmy Lee said the suspect took some casino chips, and then took off in a four-door Mercedes, after the scary break-in, first reported at 4:45 a.m. Apparently, the suspect didn't take any cash.
"The person came in with a weapon and pointed it and some of the staff and some customers as well," Lee said. "It was very frightening."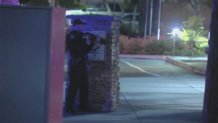 But by the time deputies arrived, the suspect was gone.
Video from the scene showed deputies in black poised with rifles outside the establishment, and guests congregated outside in the parking lot. Later in the morning, the sheriff's office also released grainy video surveillance from inside the casino, showing the suspect in some type of mask and carrying a weapon.
Sheriff's officials described the suspect as a 6-foot-tall man weighing roughly 200 pounds who was wearing a black hooded jacket, dark pants and orange gloves.
One guest told NBC Bay Area that he saw a man with a mask and a rifle on site near the pai gow table before the suspect ran out the front door. The suspect wasn't in the casino for very long, the guest said.
According to the Card Player Magazine, the casino is the oldest continuously operating poker room in the world, with poker games since 1854.
.@CocoSheriff release photos of getaway car & suspect in California Grand Casino robbery. https://t.co/eaYlMIZWzS pic.twitter.com/zyadgVpP6f — NBC Bay Area (@nbcbayarea) April 25, 2016