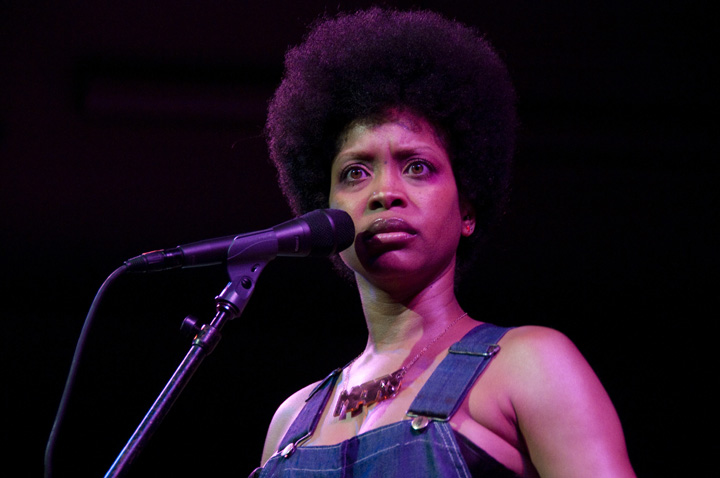 "Are we allowed to cuss in here?" asked New Orleans bred emcee Jay Electronica at Davies Symphony Hall last week. The opener for Mos Def's Ecstatic Tour took to his own devices shortly thereafter with f-bombs galore. He rapped a little, sauntered about stage a lot, did a Dilla tribute or two, and joked around even more.

The quirky artist instantly won over the audience with his jokes, couch potato ensemble complete with basketball shorts, knee high Nike socks, and flip flops (apparently he gave away all his kicks at previous cities), and plastic cup of jack. Straight kickin it.

He informed the crowd he had no album out, nothing to sell, and that he was merely an usher, a staller for the acts to come. Thanks, Jay? Entertainment no doubt.

Erykah Badu co-headlined the bill and came hard as usual with her spaced out band, The Cannabinoids consisting of no less than four keyboardists - count em, yes. The new mama came out in denim overalls with a black tube top and patent leather black booties. She kept her hair in a small fro and adorned herself with an abundance of boho rings and a metallic cuff bracelet.

The minute she began walking towards the stage, the sitting crowd jumped up and screamed their hearts out for the theatrical soul goddess. I thought her intro was particularly dope was in that it spotlighted each member one by one - and in the beginning instead of the end.

Bands often get the shaft, so I liked that. Sippin' tea from a thermos, she banged out beats on her MPC which then led into "Love of My Life" - super dope. She freestyled, covered Whodini and Ice Cube, told her band to keep up as she did a sped up version of "Appletree," then segued into another freestyle where her keyboardist also jumped in on the cipher.

The self appointed "official stage anointer" closed her set with "Soldier" off her latest album and a spoken interlude about occupation, war, and the plight of the Zapatistas. "We're already in the third world war," she said. "The fourth war is the war against self."

Mos was slightly lacking with his band - he sorta didn't have one. Two DJ's took the stage with him as he opened banging dramatically on a drum set. He strutted his hip-hop suave in high-water black dress pants, a tucked in black T-shirt, and shiny black dress shoes, topping off the ensemble with a vintage microphone.

He shouted out every single birth year from the 60's to the 90's - kinda cool way to get the crowd involved. 90's birthdays always trip me out, though - but I guess 2000's birthdays are even weirder now. I'm ambivalent about Mos, y'all - I love a lot of his work but sometimes he also needs to just shut up with all that singing. It's fine as an embellishment, but sticky to the rappity rap, holmes. Meh. So nah, I haven't listened to The Ecstatic (apparently it's dope).

But I just might now - Mos actually rapped this show for one and to top it off, one of the early joints he performed featured a Madlib beat featuring old school Bollywood sounding violins. I'm a sucker for it. Tacky South Asian sampling is plentiful but this was on point. Although I appreciated the Michael Jackson tribute, Mos couldn't hold it down on "Rock With You" or "Billy Jean" - it didn't work for his voice and even his own stylizing failed to save the show.
But dude does have a meeeeaaan moonwalk - I was inspired. He seamlessly segued into "U R The One," which is one of my favorite recent tracks and he definitely worked that one. I also discovered that Mos has a randomly impressive Spanish accent when he performed on "Pistola" off Ecstatic. I already know he's romancing the womens with that isht. Of course Mos had to sing more though and of course it had to be some reggae-esque song about wandering sheep. Okay.

Mos closed strong, though, crushing it on "Definition" and "Respiration" - amazing every time I hear them. He brought out Georgia Anne Muldrow, and amazingly innovative independent soul vocalist, to accompany him on their joint track, "Roses." Erykah Badu offered background vox on the hypnotizing grand finale, "Umi Says." Timeless.
Seher Sikandar is a Bay Area-based photographer and writer who covers art and lifestyle events. Check out her portfolio at rehescreative.com.