As a massive inferno ripped through Santa Rosa's Coffey Park neighborhood, a woman in her third trimester of pregnancy fled from the suburb on a bicycle, carrying her two toddlers in tow.

"It looked like the fire was jumping towards us," Charity Ruiz, who is expected to give birth this week, said. "It was coming so fast. I was trying to keep calm for my daughters, to keep them from seeing it and getting scared."
Ruiz, her husband Mike, and their children had attempted to flee from the neighborhood in the early hours of Monday morning in their car, but a traffic jam formed as the entire subdivision fled from the Tubbs fire. The family soon found themselves trapped on a street that was being taken over by flames and smoke.
"I knew we had to get out," she said. "There was no way we were going to make it through in the car."
The family ran back to their home, where Mike Ruiz grabbed a bike and an attached toddler trailer. He gave it to his wife, who started peddling as fast as she could, flagging down cars as she went. Her husband remained on foot to help other neighbors evacuate. The pair vowed to reunite later.
"I was worried we were going to tip over," she said. "But I kept talking to my girls, telling them that it was going to be okay."
After what seemed like an eternity on the road, a good Samaritan pulled over. The man took an alternate route to safety and delivered Ruiz and her children to a friends house. Once there, she was able to reconnect with her husband.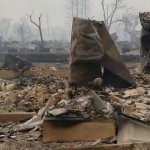 "I was just so thankful," she said. "So many people had passed by without stopping. But he didn't. He was the only one."
Ruiz said she'll remember the man's kindness forever.
While the family is now reunited, their ordeal is far from over. One week later and with a baby due any minute, the Ruiz family must start from scratch. Their home was completely obliterated by the flames.
Hundreds of her neighbors will be forced to start over, too. Almost all of Coffey Park was destroyed by the Tubbs fire, one of more than a dozen infernos that wreaked havoc on Wine Country communities and left at least 40 dead and more than 200,000 acres scorched. Haunting aerial photographs of Coffey Park show a wasteland of debris and charred wreckage, with beloved possessions transformed into piles of ash and cars melted in the street.
The suburb has become so unrecognizable that residents have taken to writing their names in chalk on the sidewalk, so they know whose wreckage belongs to whom. Simple things, like picking up mail at a make-shift community center, have provided touchstones of normalcy during the ordeal.
"It's been hard," Ruiz said. "I know that we can rebuild, but it's more about losing the sentimental stuff that was in the house. You can't put a price on that."
Her children's baby clothes, photo albums, and a precious video from her wedding are just some of the items she wishes she could hold again. Her daughters also talk about missing their bedrooms, a thought that brings Ruiz to tears.
Still, she is trying to remain optimistic, and there have been a few saving graces. Any day now, the couple will welcome their first son. And there has been an outpouring of support on a GoFundMe campaign in their honor, created by a young woman whom Ruiz mentored in a church group.
Some donations have even come in from flood-wrecked Houston, Texas, which is still recovering from its own natural disaster.
"I've been weeping. Every time I go online I start crying," Ruiz said. "I'm overwhelmed by the generosity of people that don't even know us, who have blessed us."
Most of all, she's happy she has her family rallying around.
"At the end of the day, we're all here; We all made it out okay," she said. "For that, I feel lucky."
Have comments, corrections, or a tip? Email Gillian.Edevane@nbcuni.com or call her at (669) 263-2895.