After touching down at Moffett Field in Mountain View Wednesday, and hopefully having a good night sleep at the Sheraton Hotel in Milpitas, California, President Barack Obama plans to visit the Peninsula on Thursday before hamming it up with comedian Ellen DeGeneres.
Obama has previously stayed at Fairmont hotels, such as the one in San Jose and San Francisco, during his past Bay Area visits in 2014, 2013 and 2011. Why he picked the Sheraton in a small city about 10 miles north of San Jose this visit wasn't immediately clear.
A Fairmont San Jose representative declined Thursday morning to answer any questions related to Obama, or any of the guests to "respect the privacy" of the people who stay there.
Flashing traffic signs along Interstate Highway 880 warned motorists that Barber Lane - the route to the hotel - was closed early Thursday morning.
Obama's view from hotel would be the Nimitz Highway, some dried-out bushes, a parking lot and off in the distance, the Great Mall of Milpitas. The Sheraton does boast a 614-foot presidential suite, that has a wet bar and a "cordless telephone, but which otherwise looks pretty ordinary, from the hotel's website. Online reviews of the hotel are mixed. One Trip Advisor poster complained the WiFi didn't work. On Yelp and Priceline, the hotel received 3.5 stars. Gary Ikeda on Facebook noted that Beyoncé paid $10,000 a night at a Los Altos Airbnb, while the president chose much more modest digs this visit.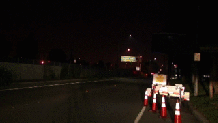 The president is expected at a private Democratic fundraiser on Seale Avenue at a Palo Alto home Thursday morning. The Palo Alto Weekly cited sources who said that is the home of Amy Rao, CEO of Integrated Archive Systems. He is then scheduled to attend a brunch at the Atherton home of venture capitalist and California's former Controller and Chief Financial Officer Steve Westly.
While local leaders are happy their wealthy town folk are sought after, they also want to recoup costs from pricey presidential visits.
In 2014, officials of the affluent Atherton passed an ordinance that requires homeowners who schedule large events, including presidential visits, to cover any added expenses, Atherton Mayor Mike Lempres.
"We're a small town but candidates do stop by quite a bit," Lemrpes said. "We're honored to have the president here but it does make it challenging for a small town."
More than 300 people are expected at Westly's house Thursday. Each guest will shell out a $250 admission fee, but anyone who wants a photograph with Obama will have to pay $10,000.
Obama is scheduled to depart from Moffett Field at about 2:20 p.m. Thursday and head to Los Angeles for another Democratic fundraiser as well as an interview with Ellen DeGeneres. His appearance on the daytime talk-show will air Friday.
The president has visited California some two dozen times during his presidency.