President Barack Obama is back in California, meeting with tech luminaries, Hollywood stars and athletes during a West Coast swing this week.
Monday's visit marked the president's ninth trip to the Bay Area in 2 1/2 years.
Air Force One touched down in the Bay Area at about 10:30 a.m. on Monday. The president was whisked away to the Betty Ong Recreation Center in San Francisco to speak about immigration, but only after he made a joke about the malfunctioning healthcare website and gave a nod to "Batkid," who got rid of the city's "super villians" on Nov. 15.
Obama said he wanted to use the Thanksgiving spirit to go along with House Republicans who want to break immigration reform into pieces. That's a different approach than the Democratic-controlled Senate that passed a comprehensive bill including border security and a path to citizenship for millions of immigrants illegally in the United States.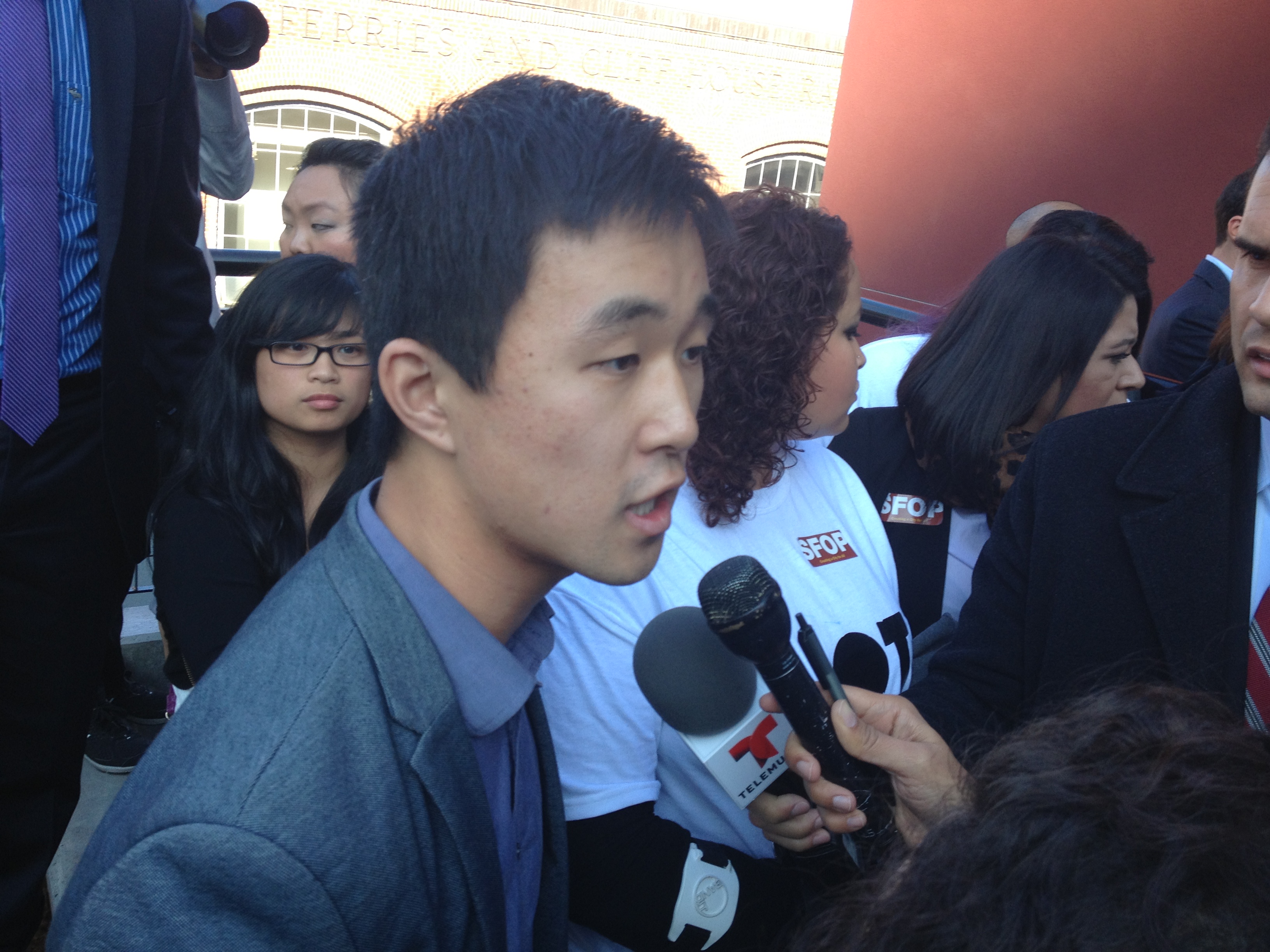 "It's long past time to fix our broken immigration system that doesn't serve America as well as it should," Obama told the crowd. "The only thing standing in our way...is the unwillingness of certain Republicans in Congress. We also know that immigration reform would boost our economy and shrink our deficits."
During Obama's speech, Ju Hong, who published a YouTube video last year about being a University of California at Berkeley "undocumented student," shouted at the president to "stop deportation."
Hong shouted: "I need your help...my family will be separated on Thanksgiving. Please use your executive order. You have power to stop deportation."
RAW VIDEO: Obama Heckled in San Francisco
MORE: UC Berkeley Grad Heckles Obama
Secret Service agents jumped in to escort Hong out, but Obama stepped in to say that Hong could stay. The crowd cheered.
"I respect the passion of these young people," Obama said, noting they're fighting to keep their families together. "But we're also a nation of laws, that's our tradition."
"We can leave this for another generation to solve," President Obama said. "If we don't tackle this now, we are undercutting our future."
PHOTOS: Obama Visits California
Many immigrants in the audience agreed.

"I thought it was awesome," John Del Rio said. "He hit the points, like he said to the guy, you got to follow the laws, you just can't jump through hoops. I'm sure he'd do what he can for us, but he's doing what he can."
From Chinatown, Obama went out to a fundraising lunch at the SFJazz Center to speak on the economy and healthcare, and then to a tech roundtable at Marc Benioff's San Francisco home before taking off for Los Angeles. Benioff is the CEO of Salesforce.com, a cloud computing company.
In Southern California, the president plans to hold a fundraiser at the home of retired basketball star Earvin "Magic'' Johnson and his wife, Cookie, in Beverly Hills, Calif., and one at the house of Marta Kauffman, co-creator of television's "Friends."
The trip comes as Obama's health care law approaches a crucial Nov. 30 deadline for an improved insurance enrollment website whose catastrophic start Oct. 1 dealt a serious political blow to the White House. Also, the U.S. and other world powers just sealed a historic deal with Iran for a temporary freeze of its nuclear program.
In addition to a half-dozen fundraisers, Obama intended to use the trip to keep the heat on Congress to pass an overhaul of immigration laws. And on Tuesday, he planned to tout his economic agenda at the DreamWorks Animation studio in Glendale, Calif.

In recent days White House officials have tried to draw attention back to the economy to avoid getting bogged down by the botched launch of the health care enrollment.
MORE: Batkid Declines Invitation to Meet With Obama

Lately, Obama has devoted time to raising money for the party, helping the Democratic National Committee reduce a massive 2012 debt and build up cash for House and Senate Democratic Committees.

The White House has been especially attentive to Senate Democrats to ensure that the party retains its majority in the chamber. The House is controlled by the Republican Party.