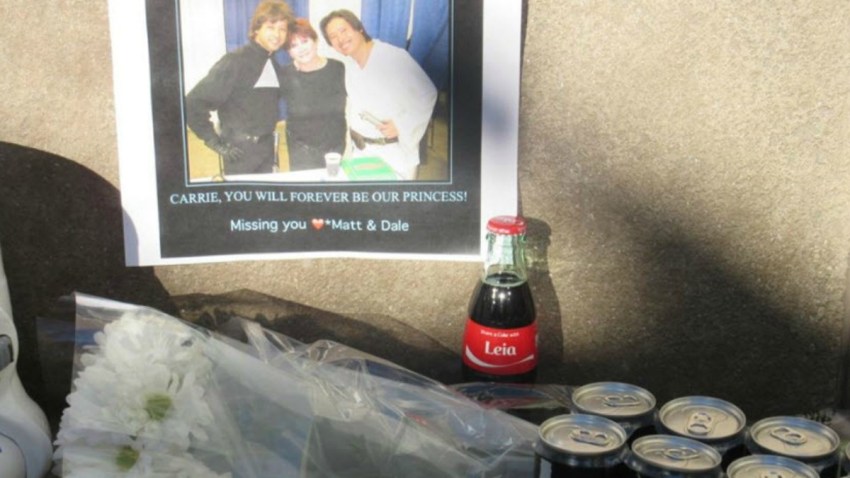 Since Carrie Fisher's death was announced on Tuesday, well-wishers and Star Wars fans have been paying tribute to the late Princess Leia all over the world.
That includes leaving light sabers and flowers at a pop-up star on the Hollywood Walk of Fame in Los Angeles for the actress, author and comedian who died at age 60 following a heart attack.
Across the country, Fisher fans held a light saber vigil at Walt Disney World in Orlando Florida.
Fans Pay Tribute to Princess Leia Under Yoda Fountain
Not to be outdone, some Daly City brothers, Matt and Dale Tolosa, and their friends went to the Presidio of San Francisco, and home of Lucas Film, on Wednesday to also pay tribute to Fisher.
"A bunch of us got together to honor Carrie," said Dale Tolosa, 42. "We grew up with the Star Wars movies."
Of course, the makeshift memorial, made of up of red light saber, flowers and a poster board showing a picture of Leia's trademark side buns, was placed directly under the iconic Yoda water fountain in the national San Francisco park. On Thursday, the Presidio tweeted: "May the Force Be With You, Princess Leia."
Film maker George Lucas, who lives in Marin County, created the first epic space opera, Star Wars, in 1977.
The Presidio is now home to the Letterman Digital and New Media Arts Center, and is the headquarters of Lucas Film. Lucas founded Lucas Film in 1971, which was bought by The Walt Disney Company in 2012.
As for Dale Tolosa's favorite Princess Leia scene? It was when she escaped from the Death Star after Hans Solo and Luke Skywalker posed as stormtroopers. "She was the first princess in cinema to rescue herself," Tolosa said.