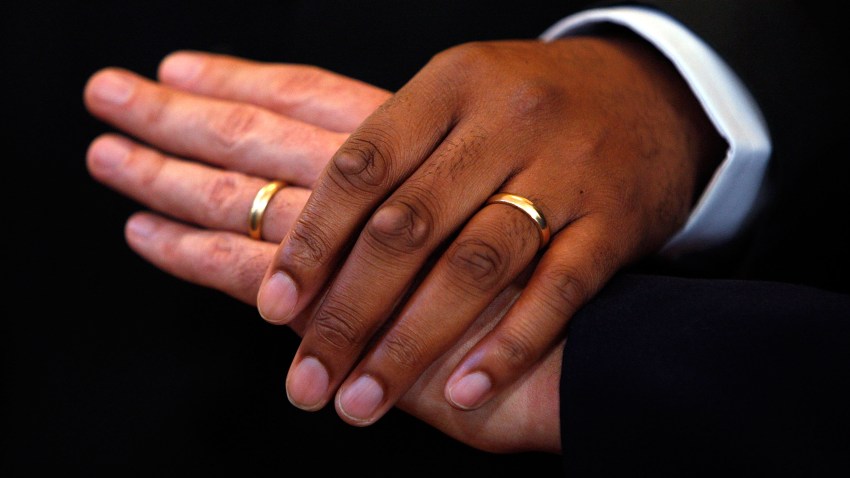 Thursday's decision by the California State Supreme Court keeps alive the hope by "Yes on 8" proponents that the voter-passed ballot proposition preventing gay marriage in 2008 may survive.
But proponents should not count on ultimate victory, at least based on this decision.
Prop 8 Ruling Highlights Messy Initiative Process
The only issue in today's announcement is that proponents for Proposition 8 may be allowed to defend the outcome of the 2008 ballot proposition in the case currently before the U.S. Court of Appeals.
That's because after the 2010 state elections, neither former Attorney General-turned-Governor Jerry Brown nor the current Attorney General Kamala Harris, were willing to defend the proposition.
In normal circumstances, a case can't move forward unless there are opposing sides, which is why the "Yes on 8" advocates sued to assure representation of their side in place of Brown and Harris.
Had the State Supreme Court ruled otherwise, the U.S. Court of Appeals might have had a basis for ruling in favor of the "No on 8" side.
Now, the case continues in the U.S. Court of Appeals, with outcome anybody's guess.
We do know this: Californians are very divided over the gay marriage issue. A PPIC poll taken last year found 46 percent in favor of gay marriage, with 47 percent opposed. It doesn't get any closer than that.
No doubt, the "No an 8" side is disappointed by today's outcome. Nevertheless, had the State Supreme Court ruled otherwise, any U.S. Court of Appeals decision based on the testimony of one side no doubt would have added to the skepticism of many Californians about the state's institutions.
Regardless, the issue is far from over. It's a given that whatever the Court of Appeals decides will be appealed by the losing party to the U.S. Supreme Court.
Without presuming outcome, it may well be that in the end, the U.S. Supreme Court rules favorably for the "Yes on 8" not because of the jurists' commitment to the traditional definition of marriage, but because of the Court's comfort with "states' rights" on social issues.
Let us know what you think. Comment below, send us your thoughts via Twitter @PropZero or add your comment to our Facebook page.