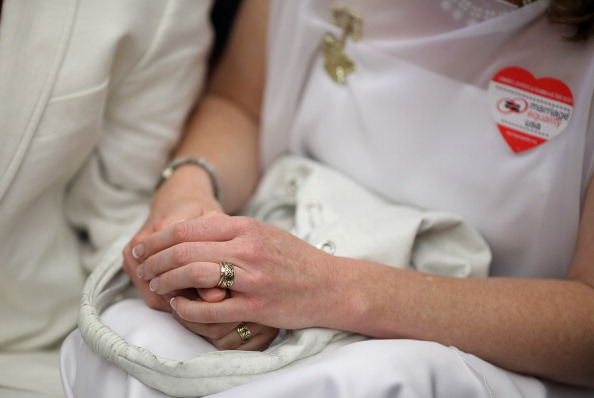 Everything's coming up Proposition 8.
The infamous 2008 ballot measure -- which changed the California constitution to outlaw same-sex marriage -- has had quite a journey: from the ballot, to a federal courtroom, where the ballot initiative was declared unconstitutional, and tonight makes a stop in perhaps a fitting location.
Broadway!
Famed thespians such as John Lithgow, Morgan Freeman, Ellen Barkin and Rob Reiner will appear tonight in "8," a 90-minute play to be shown just once -- tonight -- at New York City's Eugene O'Neill Theater, according to Bay City News.
The show's author, screenwriter Dustin Black -- who won an Academy Award for the screenplay of "Milk," and is also a writer on "Big Love" -- says that he hopes schools will stage their own productions of the show.
"The goal of '8' is to show the world that marriage equality is a basic constitutional right," he said.
The show is co-produced by Los Angeles-based American Foundation for Equal Rights, which also sponsored the lawsuit that led to the trial, and Broadway Impact, a nonprofit group that advocates marriage equality.
The lawsuit against Prop 8 was filed in 2009 on behalf of two same-sex couples -- some of whom were married as early as 2004 -- who claimed that Proposition 8, California's voter-approved ban on same-sex marriage, violated their federal constitutional rights.
After a nonjury trial, U.S. District Judge Vaughn Walker ruled in August 2010 that the measure was unconstitutional. That ruling was appealed. Arguments were heard Aug. 29; a federal judge has yet to rule on the appeal.

Copyright FREEL - NBC Local Media