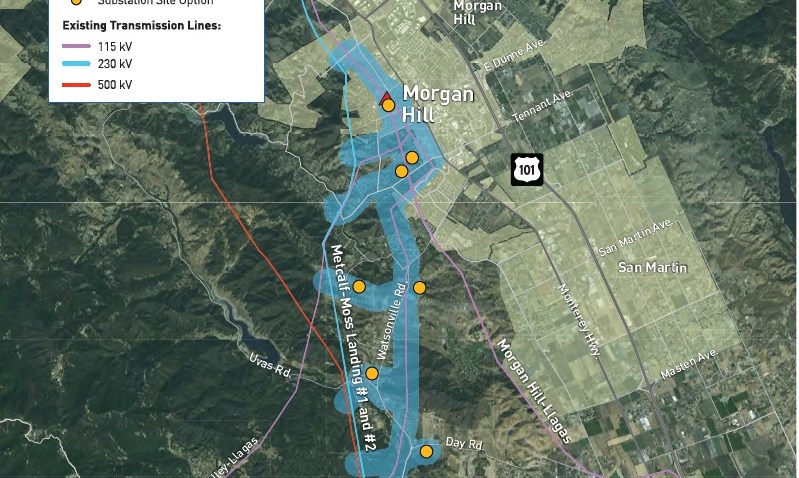 One of a handful of proposed sites for a new South Bay substation is receiving backlash from a number of community members who believe the project could endanger natural resources.
As part of its South County Power Connect Project, Pacific Gas and Electric Company (PG&E) has proposed eight sites for a new substation that will serve an estimated 43,000 customers in Morgan Hill, Gilroy and southern Santa Clara County. The company says for months studies have been conducted to find locations best suited for connecting transmission lines in order to serve a growing population.
"The wine trail is growing," said Nicole Liebelt, spokesperson for PG&E. "We want to be able to provide safe and reliable service to residents in the area and make sure the right infrastructure is in place."
The proposed substation is expected to be roughly six acres in size and will be located on 8-10 acres of property, according to PG&E. The entire project is estimated to cost $35 to $45 million, and paid for by customers statewide at a bill increase of $0.01 per month.
One of the proposed sites, located at Redwood Retreat Road and Watsonville Road in Gilroy, has received fierce opposition from community members. The location is close to wildlife habitat, and some residents believe building a plant would be detrimental to the animals.
Herman Garcia lives just miles away from the site and is the leader of Coastal Habitat Education & Environment Restoration (CHEER), an environmental group in Gilroy. He says the area near the proposed site includes Little Arthur Creek. Roughly seventy percent of the fish in the creek, according to Garcia, are steel head trout which is a threatened species. Red-legged frogs, tiger salamanders and western pond turtles also inhabit the area.
"Now PG&E wants to come in and disrupt that? I don't think so!" said Garcia.
Garcia says there are also American Bald eagles which nest a mile away from the site at Uvas Creek. He and hundreds of other community members spoke out at a community meeting hosted by PG&E back in October.
Members of the Amah Mutsun Tribal Band also expressed their grievances during a private meeting with PG&E. The Native American tribe, indigenous to the area near Uvas Canyon, has twenty historic cultural sites very close to the location of the plant. Tribal leadership is very concerned a new facility could potentially destroy burial, ceremonial and other sites that have existed for thousands of years.
"Our people have been in the area for 10 or 12,000 years or more, more than 1,000 generations of people have been there," said Valentin Lopez, chairman of the Amah Mutsun Tribal Band. "We're really hoping PG&E will not put it at Uvas Canyon so we can protect our sites."
PG&E has been hosting community meetings since July 2015 to gather input on the proposed sites and welcomes any comments about the proposed substation.
"As part of our due diligence we have to continue to consider all the sites that are being proposed," said Liebelt. "That's why we are here. We are taking that very seriously."
A final location will be proposed Summer 2017, when PG&E will submit plans to the California Public Utilities Commission(CPUC). CPUC will then perform and environmental review, allow for public comment and ultimately decide the location of the project.