Outraged activists supporting the family of a 28-year-old man shot and killed by a BART police officer in West Oakland in January are expected to storm the transportation agency's board of directors meeting Thursday for a second time.
Two weeks ago, demonstrators shut down BART's board meeting while speaking out against the deadly shooting.
Shaleem Tindle was engaged in a physical confrontation with another man when he was killed by Officer Joseph Mateu in the 1400 block of Seventh Street, just across the street from the West Oakland BART station, around 4:40 p.m. on Jan. 3.
Infuriated members of the public, some in tears, demanded last month that Mateu be fired. But after more than an hour of public comment, board President Robert Raburn said they were unable to take any action on the matter due to a procedural technicality. It was not on the agenda, and doing so would violate state open meeting laws.
The standing room-only audience erupted into protest. Many of the people there raised one fist and began chanting "police murder cannot continue, justice for Shaleem Tindle," and "no justice, no peace, no racist police."
At one point, a man who'd introduced himself as one of Tindle's brothers called on Mateu to avoid being seen in public for his own safety because lots of people "don't like the police," and something bad might happen.
Some members of Tindle's family left the room as a group, clutching his photograph and surrounded by their supporters, chanting "and the walls come tumbling down," but others remained behind, linking arms with organizers from the Anti-Police Terror Project at the podium.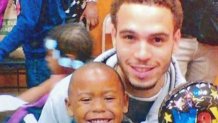 "My nephew was murdered," Jayvon Muhammed said softly, facing what remained of the audience with her back turned to the board. "There isn't going to be a meeting today."
After several minutes, Raburn quietly adjourned the meeting and said the board would proceed to the closed session items on their agenda.
Last month's protest was called in response to an earlier news conference in which BART police officially released Mateu's body-worn camera footage after it had already been leaked to the public.
It appears to show a small group of people taking shelter in the West Oakland BART station, saying there had been a shooting outside, prompting Mateu to run outside and draw his weapon.
As he approaches the scene of the shooting, Mateu commands Tindle and the other man to stand and raise their hands five times, then fires several rounds into Tindle's back at close range.
Police have said that Tindle was armed with a handgun, and later released a photograph of a Sig Sauer SP2022 they said had been recovered from the scene.
The video does show a small black object on the ground nearby that appears to be a handgun.
BART police Chief Carlos Rojas defended Mateu's actions, describing them as courageous. That was the subject of heated criticism, with members of the public demanding his resignation.
Cat Brooks, with the Anti Police-Terror Project, called Mateu's actions "murder."
"Fire him," Brooks told the board. "Fire him today."
She acknowledged that any criminal charges will have to be filed by the Oakland Police Department, since the shooting took place in their jurisdiction, but asserted that Mateu will be tried and convicted like Officer Johannes Mehserle, who fatally shot 22-year-old Oscar Grant on the platform at the Fruitvale BART station on Jan. 1, 2009.
BART spokeswoman Alicia Trost said that while the board of directors can recommend that the BART Police Department terminate Mateu's employment, they cannot fire him themselves since that is out of their purview.
Trost also pointed out that during public meetings, board members are prohibited from taking any action or engaging in dialogue with the public on any matter that isn't on the agenda due to the Ralph M. Brown Act, a state law nominally intended to prevent public agencies from operating in secrecy.
Raburn was not immediately available to comment on whether the matter will be added to the agenda for an upcoming meeting of the Board of Directors.