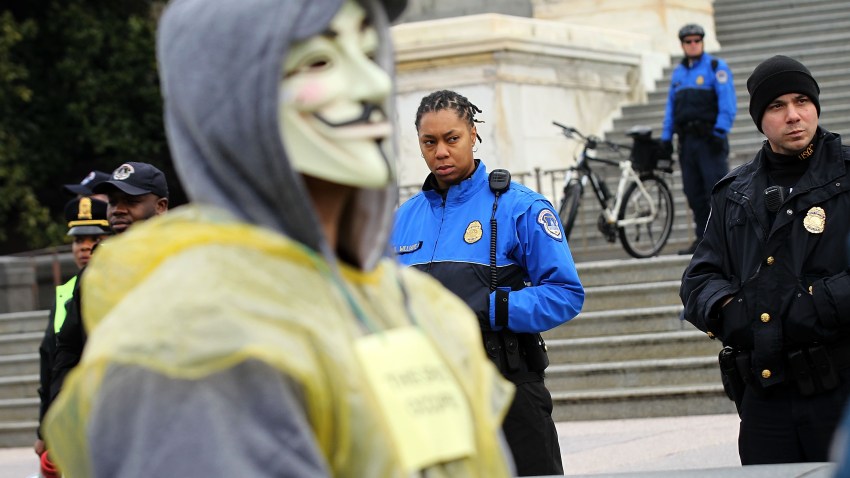 Police in riot gear are facing off with dozens of protesters who occupied a building in San Francisco today.
Officers armed with non-lethal pellet or bean bag guns were aiming them at a protester who was throwing objects from the roof of the building, located at 888 Turk St.
The protester, dressed in black with a handkerchief covering his face, was throwing what appeared to be bricks and metal rods into the crowd of demonstrators, reporters, and police.
At least one person in the crowd appears to have been struck by one of the thrown objects.
The occupation began when protesters who had gathered for a noon rally at Market and Montgomery streets downtown marched to 888 Turk St. afterward and began entering the building shortly before 3 p.m.
The building is the same site, owned by the Archdiocese of San Francisco, that was taken over by protesters on April 1.
Protesters removed a large wire fence in front of the building and activists streamed into the building this afternoon, holding banners and signs reading "May Day, Never Surrender" and "SF Commune."
California State University East Bay student Erik Carson, 26, of San Francisco said he was there to support the Occupy movement.
"I don't believe anyone should be denied the right to housing," he said.
Police Sgt. Mike Andraychak said earlier today that the protesters were trespassing on private property.
"We've been in touch with the folks at the archdiocese. We're in communication with them right now," Andraychak said.
Two buses filled with officers in riot gear arrived at the building at around 4:30 p.m. and dozens of officers have mobilized in front of the building.
At least two protesters outside the building have been detained.
.

Copyright BAYCN - Bay City News