Protests are expected on Wednesday at the University of California at Berkeley where controversial Breitbart writer Milo Yiannopoulos will be speaking.
More than 1,000 people have responded on Facebook that they intend to oppose the sold-out event that will be held at the Pauley Ballroom of the MLK Student Union at 7 p.m. Many are expected to jeer him.
But on Wednesday morning, several students said Berkeley is the center of the Free Speech movement.
"I say bring him," Samonti Smith said. "Everyone has a free right to speak what's in their mind. This is Cal. That's what makes us so great."
Added Anastasia Pyrinis: "I know friends who are attending on both sides just to hear what he has to say. I think that's very important. One part of the culture here at Berkeley is to really understand all points of view. And I'm pretty conservative and for me, being on a liberal campus, that's an important aspect."
Last week, Chancellor Nicholas Dirks wrote a letter to the Cal community about Milo Yiannopoulos whom he called a "troll and provocateur who uses odious behavior in part to 'entertain,' but also to deflect any serious engagement with ideas."
Protest organizer Ronald Cruz, however, said students plan to express their outrage not because they don't support free speech, but because they are trying to prevent hateful speech.
"He's a neofacist who has notoriously fostered a lynch mob mentality in his audiences," Cruz said of Yiannopoulos.
But, despite protests from students, Dirks said Berkeley College Republicans have a right to invite Yiannopoulos to speak.
By virtue of the fact that the group is "legally independent of the campus," Berkeley officials had "no decision ... to make," said Assistant Vice Chancellor of Public Affairs Dan Mogulof.
Dirks reiterated that the campus upholds the values of free speech, even when that speech is intolerant and divisive. His ideas are not endorsed by the university, officials said.
"This particular performer, his preference, his perspectives do conflict with this university, but that doesn't mean we are going to abandon our commitment to free speech," Mogulof said.
Yiannopoulos also complained on Facebook that UC Berkeley was requiring campus Republicans to pay a security fee for the event. But Dirks insisted that the university typically requires event organizers to pay for basic security — a sum that totals up to $10,000.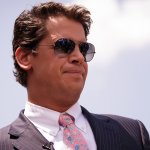 Berkeley College Republicans will not be responsible for the added costs of security for protests, which Dirks said the campus would pay. He noted that officials would "not stand idly by" while laws are violated, no matter who the perpetrators are.
Dirks' letter comes after a protester was shot and seriously wounded at the University of Washington Friday night, where Yiannopoulos was speaking.
"People are very worried that it is going to get violent and no one wants to see that here," said Rigel Robinson with the university's Senator Student Association.
Yiannopoulos is a leading figure in the "alt-right movement," a growing group of white nationalists who often espouse racist and misogynistic views. The Breitbart editor, who was permanently banned from Twitter for his role in a hate campaign directed at actress Leslie Jones, has been touring college campuses as part of his self-described "Dangerous F*ggot" tour. Yiannopoulos is openly gay.
"He has been widely and rightly condemned for engaging in hate speech directed at a wide range of groups and individuals, as well as for disparaging and ridiculing individual audience members, particularly members of the LGBTQ community," Dirks said.
Yiannopoulos's other recent campus appearances have led to tense protests, including a joint appearance with pharmaceutical executive Martin Shkreli at UC Davis, where protesters blocked the entrances and the event was canceled before the two took stage.
"With now a president in office with no respect towards civil discourse and the truth, we have to organize ourselves," said Cruz.
An event for Feb. 2 at UCLA was canceled earlier this week because organizers with the Bruin Republicans said they were unable to accommodate the requirements from Yiannopoulos's team.
In a response to the UCLA cancellation, Yiannopoulos said, "I travel with bodyguards twenty-four hours a day, and (the tour) is a multimillion-dollar operation with logistical and security requirements like any other celebrity or professional musical tour. We understand some college organizers invite me unaware of this complexity, so we work hard to help them through the process."
If it were up to Cal student Jason O'Neal, Yiannopoulos won't face any trouble, at least from him.
"So if you're conservative or have opinions that are a little more to the right, I think you can still express those here," he said.