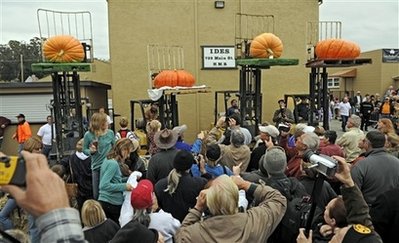 A 1,658-pound pumpkin from Des Moines, Iowa, took first place at the World Championship Pumpkin Weigh-Off in Half Moon Bay this morning in what its grower called "a big victory."

Winning grower Don Young, 45, said he drove 2,000 miles to attend today's 36th annual pumpkin weigh-off, which drew hundreds of people to the streets of Half Moon Bay.
At $6 a pound, Young will take home a $9,948 prize. He says he didn't expect to win and is very happy.

The second-place winner was Leonardo Urena, of Napa, who had a 1,470-pound pumpkin. Third place went to Ron Root, of Citrus Heights, Calif., who grew a 1,247-pound pumpkin. Another Napa resident, Pete Glasier, took fourth place with a 1,174-pound pumpkin.

The world's heaviest pumpkin on record weighed 1,725 pounds, contest organizers said. Young's winning pumpkin broke the California record of 1,535 pounds. His winning gourd will be shown off this weekend at the Half Moon Bay pumpkin festival.