If there is any silver lining for the gay Afghan community, it's that the possible sexual preferences of the Orlando gunman might force community members to start addressing the normally taboo subject of homosexuality within the Muslim world.
"There are queer Afghans just like everyone else," said Ali Olomi, 30, an Afghan-American and straight LGBTQ community activist who studies and teaches Islam and gender issues at University of California at Irvine. "With the old guard, these types of things are kept private. But there's a shift going on."
After Orlando, he said, the overall message was definitely how "Afghans can galvanize and build an inclusive community." In fact, on Monday, Olomi joined an online conversation organized by the San Francisco-based Samovar Network to discuss Orlando, and how Afghans could do more to combat cultural homophobia. The Bay Area is Ground Zero for both the gay rights movement and the Afghan diaspora. And some Afghan Americans around the county are now grappling with issues of homophobia and shock.
The FBI and community members are still exploring whether the now-dead gunman, Omar Mateen, born to Afghan parents, was gay.
His wife, Noor Salman, who grew up in Rodeo, California, told agents she drove him to Pulse nightclub in Orlando before he shot 49 people inside the gay club to death on Latin night. It's unclear though, if Mateen was scoping the place out for his attack, or whether he frequented gay bars. There are also reports he used the gay dating app, Grindr.
His ex-wife Sitora Yusufiy also told TIME that she questioned "whether he was totally straight." And his father, Seddique Mir Mateen, told NBC News that his son got angry when he saw two men kissing in Miami a couple of months ago. He thinks that may be related to the shooting.
Until Mateen's sexual preferences become known – if they ever do – the issue of homosexuality is not one normally talked about in Muslim, especially Afghan society, said Aisha Wahab, a board member for the Afghan Coalition in Fremont and co-director of the Little Kabul Stories. At 20-something, she knows of only one or possibly two gay Afghan peers - and of those, only one is out.
[[382936471, C]]
A year or two ago, she said, a teen killed himself in Fremont. The reason, community members were told, was general stress, she said. "But all the hints were that he was gay," she said.
And it's not just sexuality that the Afghans she knows don't talk about. She said many first- and second-generation Afghans don't speak of bodily functions like menstruation, and mental illness, either. Many of those issues simply go ignored, Wahab said. And that repression can be harmful, she said, and must change.
In Wahab's mind, many Afghan families are traditionally conservative on social issues. But in her mind, families are "responsible for knowing and accepting their children for who they are, and not being accepted causes a lot of turmoil."
As for Mateen, Wahab can only speculate that "he probably had self-hate and self- doubt. Instead of suicide, he turned it outside."
But it's not that simple to paint the entire Muslim world – and Afghan society in particular – as so close-minded, said a 26-year-old Oakland anti-violence advocate, who was born to Afghan parents and identifies as queer.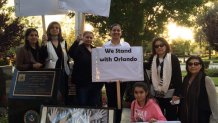 She also said it's not that simple to assume that Mateen's possible homosexuality led to at least some of the motivations behind his killing spree.
"Being queer or gay doesn't necessarily make you angry," she said. "Sure, it makes it more difficult, but it's not that simple."
She has come out to several, but not all, of her family members, some who have been supportive or semi-supportive, and others who have been outright homophobic. She asked not to use her name in the media for fear of her own safety and hate mail she might receive by outing her sexual identity to the public.
But she said that her issues are no different than the issues any gay, lesbian, trans or queer person might face.
"There are repressive tendencies in every community," she said. "There is some patriarchy, sexism and oppression in every community. It just depends how it manifests itself. To put one community in such a box is a disservice."