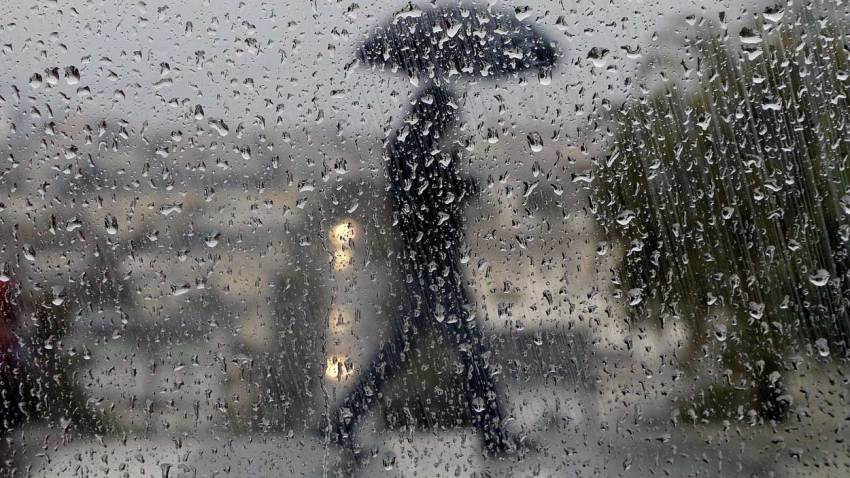 One of the strongest storms in years pounded California Monday with downpours that produced flooding and brought the threat of landslides and avalanches.
Most of the rain, produced by a weather pattern called an atmospheric river, was expected to fall in northern and central California, where some residents were evacuated due to rising river levels. In Southern California, showers that began overnight continued through the morning drive.
The California Highway Patrol logged 110 crashes on Los Angeles freeways during the morning's rainy commute, compared with just seven during the same period a week ago, when it did not rain. The California Highway Patrol statistics covered the period from 5 a.m. to 10 a.m. both days.
The active weather system is powered by an atmospheric river, long plumes of moisture from the tropics or subtropics that move into higher latitudes. They're capable of blasting a firehose of rain and creating hazardous conditions, including flooding and landslides, due to such a large amount of rain over a short period of time.
Flash flood watches were issued for Los Angeles and Ventura counties as the storm, considered one of the most powerful in a decade in California, moved in overnight. The rain comes after a month that turned out to be one of downtown Los Angeles' wettest in six years.
Monday's rainfall moved out of the Los Angeles area by midday, but marked the start of what's expected to be a soggy week in the drought-stricken region.
Toppled trees crashed against cars and homes or blocked roads in the San Francisco Bay Area, and officials rescued stranded motorists from cars stuck on flooded roads. A giant tree fell across the southbound lanes of Interstate 230 in Hillsborough, injuring one driver who couldn't break in time and drove into the tree. A woman was killed Saturday by a falling tree while she took a walk on a golf course.
In Northern California and Nevada, hundreds of people fled homes as rain caused mudslides and widespread flooding. The Russian River in California's Sonoma County and the Truckee River near Reno, Nevada, overflowed their banks late Sunday and officials say both waterways could stay at the flood stage for days.
In Placer County, a 12-year-old girl was rescued from an overturned car in a creek. Deputies rescued the girl with help from other drivers nea Highway 49.
Mudslides caused road closures across the region. More rain is expected in the area Monday night.
A well-known giant sequoia tree known for the huge tunnel carved through it has toppled during California's weekend storms. The historic Pioneer Cabin in Calaveras Big Trees State Park in Calaveras County came down during heavy rains on Sunday.
The tree was hollowed out in the 1880s to allow tourists to pass through it.
Up to a foot of rain is expected in some parts of the state. Heavy snow is likely above 9,000 feet, but downpours in mountain areas pose a significant harzard. The rain could trigger runoff that can overflow foothill streams and rivers.
The steady stream of rain and snow could mean improvement for drought conditions throughout the state. The state's snowpack provides roughly a third of California's water in normal years for drinking, farming and wildlife when it melts in warm, dry months and runs into the state's reservoirs.
But the rain-soaked snow means an increased threat of avalanches in the Sierras.
All roads leading to Yosemite National Park's valley floor remained closed amid fears that the Merced River could overflow its banks and cause major flooding.
Copyright AP - Associated Press