A mid-winter storm brought much-needed rain to the Bay Area. It also brought much needed snow to the Sierra.
The storm also caused rare reports of hail throughout the day and a light dusting of snow on Bay Area peaks. Mount Hamilton in San Jose received three inches of snow.
The storm came out of the Gulf of Alaska, bringing the first significant rainfall to the region in several weeks.
Periodic showers, including the bits of hail, hit the Bay area in time for Tuesday morning's commute and lasted through the dinner hour.
The wild weather will move east by Wednesday.
Ski resorts around Lake Tahoe could see between 8 and 10 inches of snow.
Even though San Francisco saw highs in the 70s last week, California has been experiencing a colder-than-normal winter. "We went from about 10 degrees above normal this past weekend to 10 degrees below today,'' Austin Cross, with the National Weather Service said. "We're usually somewhere in the 60s, temperature-wise, at this time of year.''
San Francisco has accumulated nearly 14 inches of rain since October, which is about 85 percent of its normal rainfall during the fall-winter season, Cross said. Oakland has comparably received 83 percent and San Jose has had about 80 percent, he said.
After the rain, snow and hail move through, a cold system will settle in for the rest of the work week.
In fact, Wednesday morning will be the coldest morning of the week with temperatures reaching the upper 20s and lower 30s across the entire Bay Area. By Wednesday afternoon, temps will rebound back into the mid to upper 50s with sunshine returning.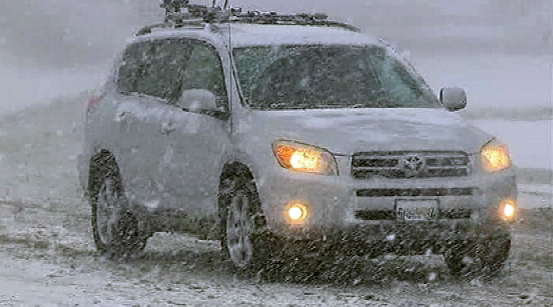 WEDNESDAY: Cold to start the day with widespread frost and the threat of black ice exists. There will still be a few areas of light showers in the morning, but by the afternoon expect skies to clear with the return of sunshine.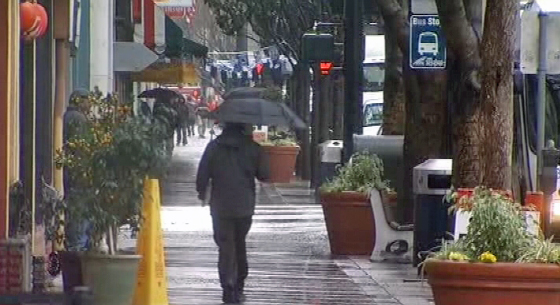 THURSDAY: Expect another cold start with lower to middle 30s Inland. There is a very slight chance of a stray isolated shower today as another weaker system rides down the California Coastline. While we are not expecting a complete washout, a few more clouds will scoot across the Bay Area and could produce a brief shower. Daytime highs will reach the mid to upper 50s.
THE WEEKEND: As we approach the weekend a system will slide to our north brushing against Northern California. At this point the computer models are keeping only a slight chance of rain for Saturday, with the bulk of the moisture remaining out of the Greater Bay Area. Daytime highs will begin to warm into the lower 60s by Saturday with mid 60s by Sunday.
Copyright AP - Associated Press