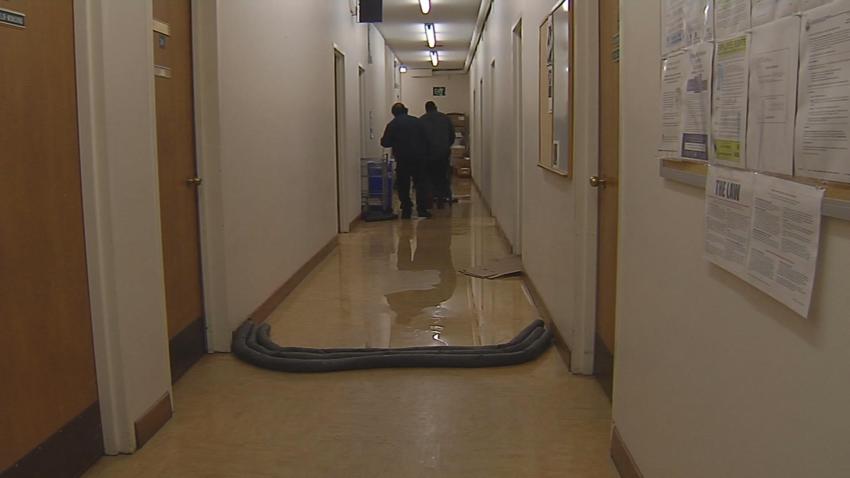 Raw sewage flooded several floors of the Hall of Justice in San Francisco on Tuesday after an inmate stuffed a large bath towel down a toilet, officials said.
The leak came from a sewage blockage on the seventh floor, said John Gavin, of the Department of Real Estate, and officials said it was not isolated to just the one building.
"It's so overwhelming, it is now flooding outside in the public areas too," said Alex Bastian, spokesman for the District Attorney's Office.
"City plumbers responded to the seventh floor and made attempts to retrieve the object that caused the initial flooding, but the object eluded their efforts and continued to work its way through the plumbing system down to the third floor," Gavin said in a statement.
The leak began around 12:30 p.m., and foul smelling water flooded several offices. At about 3 p.m. flooding occurred on the second and third floors of the Hall of Justice.
Bastian said more than two dozen prosecutors and support staff were evacuated pending cleanup of the mess.
Some employees put on plastic booties so they could try to save prosecutorial files from being contaminated.
Gavin said they are still investigating why equipment used to clear the sewage failed.
"Over the past decade the city has invested hundreds of thousands of dollars, installing a dozen sewage grinders to mitigate this type of flooding, and the investment has successfully lessened the frequency of this type of flooding," Gavin said.
Custodial staff will be working through the night to make sure the area is safe for employees and public to return, Gavin said.
The building has long been plagued by problems, including sewage, rodents and asbestos. It also poses an earthquake hazard. Last year, the city police administrative headquarters was relocated from the building, along with Southern Station, to Mission Bay.