The sickly northern fur seal found stranded in a California business park this week is just one of the record number of mammals found and rescued at the Marine Mammal Center in Sausalito - likely a factor of both The Blob and El Niño.
"We're seeing El Niño conditions behind The Blob," said center spokesman Giancarlo Rulli. "And the pups are left to forage for themselves. That's why they are washing ashore."
A total of 107 fur seals were rescued by the center in 2015, three times the average. Three have been rescued in the first 21 days of 2016, Rulli said. And throughout California, other rescue centers are busy feeding high numbers of hungry mammals before sending them back into the ocean.
An unusually high number of pups, and even their mothers, have been popping up in places where they shouldn't, including Wednesday at a Hayward, California business park and in late December in Sonoma County. Rulli said center workers began noticing in October that the pups were half the size they should be, and were "severely emaciated."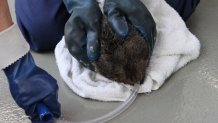 And off the central coast, Guadalupe fur seals were found dying starting in September, leading the National Oceanic and Atmosphereic Administration to declare an "unusual mortality rate." Seabirds also have been found starving along the West Coast, in Oregon and Washington.
Overall, the National Oceanic and Atmospheric Administration said that from January to May 2015, California sea lion strandings were more than 10 times the average.
A variety of factors determine when fur pup seals stray from where they should be: swimming happily in the Pacific Ocean, after having been born on the Channel Islands, Rulli said. But the warm ocean waterheated by El Niño is one of the the most likely reasons for the sickly mammals, Rulli said.
Plus, in 2013, the Joint Institute for the Study of the Atomosphere and Ocean at the University of Washington noted a warm water stretch of ocean, from Alaska to Southern California, and dubbed it The Blob. The area covers at least 3,000 miles and is known for being nutrient poor.
So now, mammals are experiencing a double whammy of warm water. That makes it harder to find food.
Lactating mama seals have more difficulty diving for food – sardines, herring, squid and anchovies – that swim deeper into the ocean in search of their preferred colder habitat. The pups are left hungry when their mothers can't feed them enough. Sometimes the pups leave their moms in search of food. Sometimes they end up in business parks.
Rulli added that unusually weak winds from the north and strong winds from the south are also causing a change in currents and a lack of upwelling that would typically bring colder water and nutrients, such as fish, to the surface.
A similar phenomenon occurred during California's last El Niño in 1997, when the death rate of seals hovered about 70 percent, compared to a normal rate of 45 percent.
Copyright ALLPD