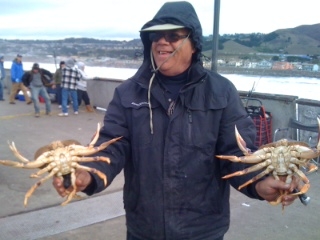 It's an unbearable sight for Dungeness crab lovers: Hundreds of crab pots sitting idle on the docks of San Francisco's Fisherman's Wharf. A beef over price means commercial crab fishermen wouldn't be hauling in any of the delectable crustaceans in time for Thanksgiving. But that doesn't necessarily mean every Thanksgiving table will go without.

The strike by commercial fishermen has given recreational crabbers free reign on the ocean's crab population. Although state regulations forbid anglers from catching Dungeness crabs in the San Francisco and San Pablo Bays, it doesn't prevent them from trying their luck outside the Golden Gate.

That's why the Pacifica Pier was packed on Wednesday with amateur fishermen hoping to take matters into their own nets – and go home with their ten crab limit.

Michael Pointer of Pacifica seemed to be the king of the pier crabbers, taking-in five large Dungeness crabs. Pointer said in most years, the run of crabs drops off once the commercial guys go to work. Needless to say, he wasn't shedding many tears over the ongoing price dispute.

"I don't wish nothing bad on them," said Pointer. "But they could argue another day or two and I'd be happy."

Most of the fishermen on the Pacifica Pier eschew traditional crab nets in favor of fishing poles fitted with a snare-like lure. The device resembles a tangle of line, with a basket in the middle for bait. Fisherman Geoffrey Aiken said its success seems to be based on the law of averages.

"Crab has eight legs right?" Aiken asked, testing a reporter's knowledge of biology. "You get a chance of eight. Get it stuck in here, and come home to daddy."

Despite a biting cold wind, a sea lion loitering nearby, and umpteenth tangles of fishing line, Tolak Besman said the effort was worth the trouble.

"That's the pot of gold at the end of the rainbow, is having that delicious crab you know you can't go and buy," Besman said, even though his bucket was still bare.

Unlike commercial crabbers, the recreational pier crabbers don't need a license – or a fancy boat. But they do require a certain amount of luck – something Vrina Orozco seemed to be a little short on. Although Orozco didn't catch a crab, she did manage to snare a tangle of a dozen abandoned crab nets beneath the pier – eventually losing the net she'd purchased earlier that day.

"We were feeling it's going to be a lucky day because tomorrow's Thanksgiving," she said. "But unfortunately, no."

Despite going home with a single crab between three friends, Eric Shank was happy to spend the day in the great outdoors. Like most, actually catching a crab seemed to be the icing on the cake. "If I never got anything it'd still be fun," Shank said.