The red flag warning already in effect over the weekend for parts of the Bay Area was extended until Tuesday evening, the National Weather Service confirmed.
The red flag warning was initially issued for the North Bay and East Bay hills as well as the East Bay interior valleys from 11 p.m. Friday until 6 a.m. Monday.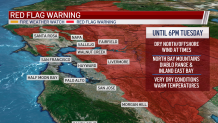 Offshore winds, low humidity levels and warm temperatures in the forecast prompted the weather service to issue the alert.
Temperatures could reach into the upper 80s or lower 90s and "we're not going to get a lot of help from the marine layer," National Weather Service meteorologist Ryan Walbrun said.
The entire Bay Area is in extreme drought conditions which gives the National Weather Service no choice but to issue a red flag warning this weekend.
"You know the 91 fire took place in October," said Deputy Fire Chief Nick Luby of the Oakland Fire Department. "September is when we see these wind events and now here we are in may and we're starting to see these events being forecasted. It puts the hair up on my neck. It puts us in a heightened level of concern."
"We will have our resources out patrolling. We'll be looking for any potential starts," said Luby. 
Contra Costa Fire Protection is partnering with other agencies to preposition their wildland 10-person crew engine task force just after sunrise.
Fire officials are asking for the community's help.
"By doing weed abatement defensible space creation if they haven't already done it, to buy us time to save structures if a wildfire does occur," said Steve Hill, of the Contra Costa Fire Protection.
There have been a high number of grass fires burning or threatening homes already.
Fire officials expect this to be a long and dangerous fire season.
Fire departments in the region have been mobilizing equipment and fire crews to strategic spots across the bay area since last weekend. With the red flag warning now being extended by a day into Tuesday, they are hoping everyone is careful and stays safe.
The weather service urges people to properly dispose of cigarettes and matches, keep vehicles off of dry grass, avoid using any outdoor equipment that may create sparks, and to not drag tow chains.
For the latest weather updates, visit NBC Bay Area's weather page.
A previous version of this story inaccurately reported all parks in the East Bay Regional Park District were closed starting Saturday.