The deadly fire at the Oakland warehouse took the lives of 36 people, including three young Peninsula natives.
Michela Angelina Gregory, 20, Jennifer Morris, 20, and Alex Vega, 22, have been confirmed among the identified victims.
A third-year student at San Francisco State University, David Gregory described his daughter, Michela, as "ambitious" and "just something else."
"Between work and school, she was always going," he said.
After graduating from South San Francisco High School, Michela Gregory headed to San Francisco State University to pursue special education and communicative disorder studies.
She was inspired through programs in high school, where she would volunteer to work with autistic and special needs children.
Her father said she would have likely wanted to find a job close to home after graduating.
Michela Gregory had attended the gathering in Oakland with her boyfriend of five years, Alex Vega.
Vega was living with family in San Bruno and had graduated from Capuchino High School.
The two had become inseparable through the years, according to David Gregory.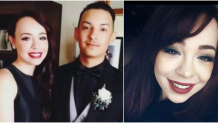 The Alameda County Sheriff's Department said firefighters found the high school sweethearts in the warehouse in each other's arms. Gregory's father said he knew they would be found together.
"I knew it, I just felt it, it gave me peace knowing," Gregory said.
"They were always together. They always go everywhere together. There is no way that one of them would have gotten out without the other."
Hundreds of people stood in the rain Wednesday night in San Bruno holding candles to remember the two.
A quiet, good kid, Gregory remembers his daughter's long-term boyfriend fondly.
He ate meat, she was a vegan. He was quiet and reserved, she was outspoken and bubbly, he said.
"It's funny, he's a very quiet person. The minute you get him to open up, he was very open, very intelligent," he said. "Her and Alex will always be in our hearts forever."
A memorial fund has been started by a family friend of the Gregory family, while another has been started for the Vega family here.
As families and friends mourn the loss of loved ones, the national incident brings in support and prayers from across the region.
"I know we don't know each other but I have a son the same age," commenter Corinne Gaeta Choulett wrote to Michela Gregory's mother. "I've been following and praying."
Jennifer Morris of Foster City was also among the victims Friday.
A junior majoring in media studies at UC-Berkeley, she was with her roommate Vanessa Plotkin, who died that evening as well.
UC-Berkeley Chancellor Nicholas Dirks addressed students in a statement following the fire.
"We also stand together, in solidarity and support, with all in our neighboring communities who have been impacted by this terrible tragedy," Dirks wrote.