There may be no meat to incite the masses to action, like bacon.
Burger restaurants, pizzerias, bars have all folded under the vocal opposition of neighbors. But it seems a San Francisco restaurant that specializes in bacon will live to oink another day.
The year-and-a-half-old Bacon Bacon in the Ashbury Heights neighborhood has been battling for its porky existence since some neighbors began complaining a while back about the bacon smell wafting their way.
"Depending on the wind patterns day to day, there were strong odors of bacon," said attorney Ryan Patterson, who is representing a neighbor with sensory olfactory nerves. "This is a restaurant that specializes in bacon and is called Bacon Bacon -- and it did smell like bacon."
MORE: SF Bacon Restaurant Must Close Due to Aroma Issue
With dishes like fried chicken wrapped in bacon, bacon scones and a bacon bouquet (five bacon strips wrapped in paper), it's not incomprehensible there would be a bacon smell.
But the restaurant had other issues beside just the aroma – namely it didn't have a permit.
"They have been operating without a permit since December 2011," said Richard Lee of San Francisco's Health Department. "We finally set a deadline when they need to get a permit."
Under the city's deadline, the restaurant was set to shut down on Friday at 3 p.m. Owner Jim Angelus said he offered to install a $35,000 air filtration system, but was afraid to commit to the work if the city was going to shut him down anyway. But on Friday, Angelus seemed to work out a deal with his neighbor after saying he would install the new system, even thought it had yet to be put into writing, and still required approval from the Planning and Health departments. There is a hearing in July to formalize the permits, and until then, Angelus is running a bacon food truck. To see when and where click here.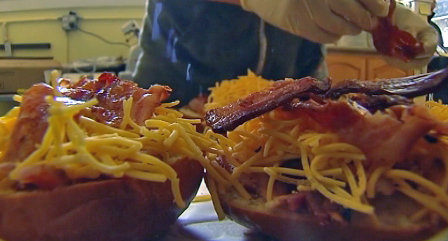 Supporters signed petitions, and finally, came down Friday to pig out one last time, walking past a chalkboard sign out front that read "Save Our Bacon."
"I want to stay here because I'm not going to let a couple neighbors ruin what's a great neighborhood," Angelus said. "I live in this neighborhood, too."
But as Angelus' four employees wondered if they'd have jobs next week, Angelus received a call Friday - just after lunch - from his neighbor and Patterson. As they negotiated over speakerphone, the contingent finally reached a verbal deal. Angelus agreed to put in the filtration system, and the neighbor would drop his complaint.
"My client has offered to contribute money to make this happen," Patterson said. "I think everyone is really happy about it."
But as he hung up the phone, Angelus illuminated a cautious smile. Then he headed back to the restaurant's kitchen – there were bacon burritos to be made.
More Local Stories:
Copyright FREEL - NBC Local Media