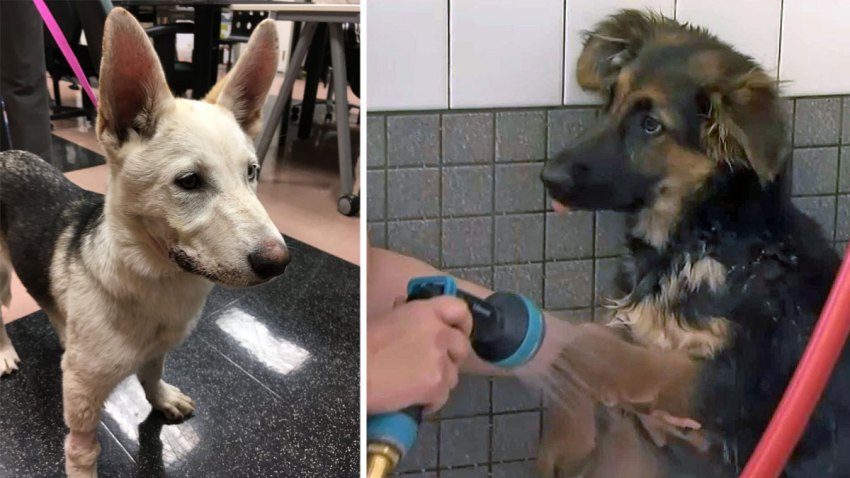 The reward for helping to find the person who abandoned mutilated puppies in East Oakland last month has been increased to $40,000, Oakland police announced Wednesday.
Two 4-month-old female puppies, named Freya and Frigg, were found in a pile of garbage at 89th Avenue and G Street on May 26. Freya's jaw was broken and Frigg's rear paw was chopped off.
A third German shepherd puppy was found in the same area with a broken jaw on May 28.
Since then, the puppies have been recovering. Both of the puppies with broken jaws underwent surgery and are now able to eat.
Last Friday, District Attorney Nancy O'Malley announced that her office was investigating the case along with the Oakland Police Department.
O'Malley said it's likely whoever is hurting the dogs is also abusive toward people.
She said it appears that the perpetrator is using some kind of tool to mutilate the dogs and it's unlikely that it was a result of dog fighting.
Last week, O'Malley announced the reward for the capture and conviction of the person responsible was $15,000. On Wednesday, Oakland police announced the reward had been increased to $40,000.
Anyone with information about the puppies and the injuries they suffered is asked to call Oakland police Sgt. Robert Muniz at (510) 238-3728 or the Oakland Animal Shelter at (510) 535-5602.
Copyright BAYCN - Bay City News