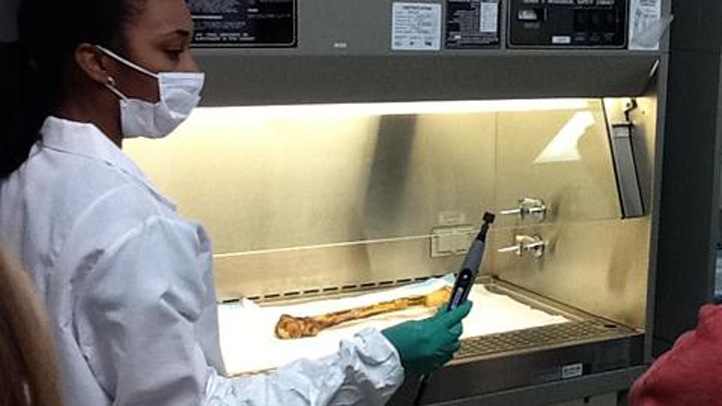 Scientists at the Department of Justice DNA laboratory in Richmond are gearing up to begin analyzing some 1,000 bone fragments found in a San Joaquin County well.

Crews have been sifting through the well since last week after information was provided by a serial killer who is claiming to disclose the location of long-lost victims.

Wesley Shermantine and Loren Herzog were called the "Speed Freak Killers'' after their 1999 arrest.

Investigators said the boyhood friends were suspected in as many as 20 murders as a result of a meth-fueled crime spree.

Friday authorities in Richmond began the process of extracting DNA from bones and skull fragments found in Calaveres County. Scientists showed NBC Bay Area's Jodi Hernandez the process used to extract DNA from bone fragments.

They will first sand the bones to clean the surface, then they'll cut a piece from the fragment. They then pulverize the bone into powder and add a chemical to isolate the DNA.

The DNA is then amplified and run through the FBI's DNA database to see if there's a match. When remains of the bones are old, the scientists may need to use a more detailed process called mitochondrial DNA testing, which takes longer.

This may be the case with the San Joaquin bones since they've likely been exposed to the elements and could have been in the well for some time. The process could take weeks or even months.

"We can't rush the science," said John Tonkyn, a criminalist supervisor. "We ask for patience as we go through the process so we can do it properly."

They also note they are one of just a handful of labs in the country that do this work and employ the best in the field.

Meanwhile, scientists are urging relatives of missing loved ones to submit DNA samples to law enforcement.