Police have identified a suspect who allegedly shot and killed a man in Richmond last Thursday.
Police responded to the shooting in the 200 block of South 15th Street at 9:41 a.m. after receiving a ShotSpotter gunshot detection system alert. They located Mark Johnson Jr., 35, who eventually died from multiple gunshot wounds.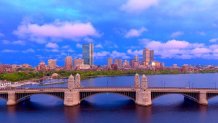 Investigators later learned that Johnson had been in an argument with another man when the shooting happened, according to police. They identified the suspect as Vernon Lamont Dowell, 40, of Richmond.
Dowell was described as 5 feet, 10 inches tall, weighing 170 pounds and has black hair and brown eyes. A $1 million warrant has been issued for his arrest.
Dowell allegedly fled the scene, and police could not determine the reason for the argument.
If anyone knows Dowell's whereabouts, police said they should not contact him because he is considered "extremely dangerous." They should instead dial 911 or call Richmond police Detective Chris Decious at (510) 621-1747.