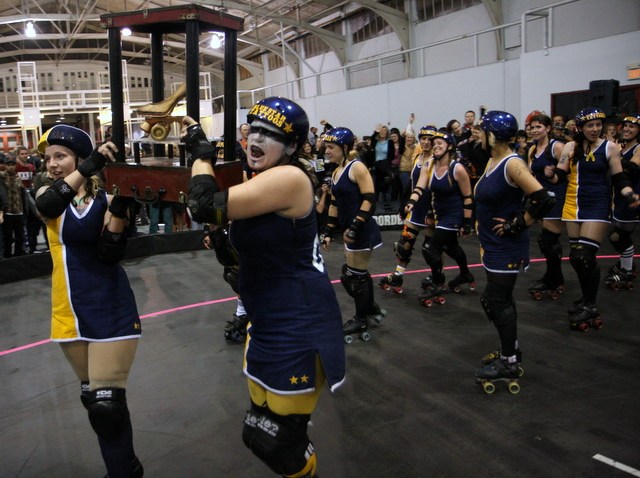 The end of the 2009 B.A.D. Girls (Bay Area Derby Girls) all-woman flat-track roller derby season looked just like the end of the 2008 season, with the Richmond Wrecking Belles going up against the Oakland Outlaws to determine who would get bragging rights going into the winter hiatus.

In 2008, the Outlaws took the trophy away from the Belles, who were 2007 champs. Now it was the Belles chance to take it back, and they did.

The first half of the bout was more than any sports fan could hope for, with multiple lead changes as the two teams battled back and forth, often with just a point or two separating the them.

The last two jams of the first half saw Richmond pull away with the lead, and a few minutes into the second half, they were dominating Oakland 70-35.

Oakland didn't give up, and they did keep the game interesting, helped by Burly Bots 20-point jam bringing the score to 94-74 with just seven minutes left in the game.

But just when Oakland really needed to turn it on, Outlaw jammer Sharron Needles was called out with a penalty at the start of the jam and Richmond easily cruised through the rest of the game winning with a final score of 117-74.

As the Richmond girls skated around the track for a victory lap, the Oakland Outlaws huddled and chanted "We're number 2! We're number 2!" referencing the Drew Barrymore directed Hollywood film "Whip It" about the new resurgence of roller derby in the U.S. that is in theaters now.

If you are interested in learning to skate, joining the league, or being a vendor or volunteer at one of their bouts next year, check their site here.