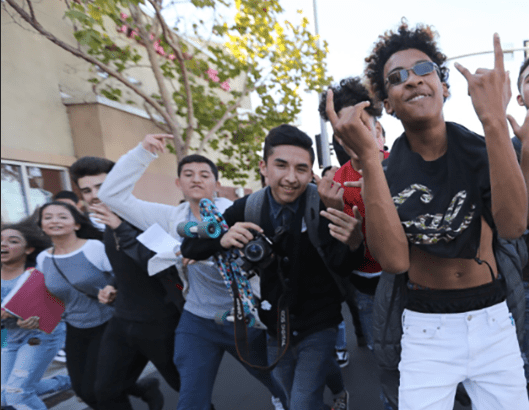 Devastated Richmond youth turned to the streets on Wednesday following the historic upset that saw Republican Nominee Donald Trump win the 2016 Presidential Election. Too young to vote at the polls, many said it was the only way to have their voices heard.
The students from Kennedy High and Richmond High numbered into the hundreds and piled onto Cutting Boulevard, MacDonald Avenue and 37th street shortly before noon. As they marched toward City Hall, they held signs decrying a Trump presidency and shouted "F*** Donald Trump."
Alex Knox, a policy director for Mayor Tom Butt, told media that he would allow students to stay on city hall steps as long as they want, but the crowd began dispersing shortly before 3 p.m. "We are listening," Knox said.
Some students stood on a make-shift stage and voiced their frustrations, concerns and fears about a President-Elect Trump, who campaigned on a platform of creating a "deportation force," a "Muslim ban," and building a "big, beautiful wall" between the U.S. and Mexico.
"I am a Muslim and I am an Arab," student Amir Alkrizi said. "It shocked me and I'm sure it shocked us all. We have to make a change."
Many teachers were supportive of the students' decision to walk out. Some even joined them.
Gabriela Wyatt-Llort, a teacher with Leadership Schools, protested with her students. "It feels really important for me to fight for them." — RichmondConfidential (@riconfidential) November 9, 2016
Dozens of police officers were on scene and followed protesters as they walked along the streets. According to West County School officials, the police were there to keep the peace but also to ensure that students were safe. The protest remained peaceful throughout the march, with no violence reported, police said.
"They're angry," said Randy Joseph, an administrative coordinator at Ryse Youth Center. "…They see Trump's a hateful, evil person and the way he talks about women and minorities. They have friends that are (undocumented immigrants) and it makes them feel unsafe and marginalized."
Progressives from Richmond, a culturally diverse city where more than 70 percent of registered voters are Democrats, should have had cause to celebrate Tuesday and Wednesday: Voters passed a crucial rent moratorium intended to stop spreading gentrification, and two members of the Richmond Progressive Alliance backed by Vermont Sen. Bernie Sanders clinched seats on the city council.
But that was overshadowed by the Trump victory.
""It's totally upsetting," said City Council Member-Elect Melvin Willis. "I don't like the fact that someone who says openly racists and sexist comments is the person that represents the entire nation. There was so much hatred and anger that came from his campaign, and now that's who is representing us. That scares me too."
He continued: "The only thing I can do on my end is make sure that our region is thriving in the weight of the national results."
Meanwhile, students at Berkeley High School and several San Francisco schools walked out of classes, mirroring nationwide acts of demonstration against the President-Elect. A protest in Oakland drew more than 300 people on Tuesday evening and lasted until 3 a.m. Thousands are expected to show up to a 5 p.m. Wednesday rally in Downtown Oakland.
Gillian Edevane covers Contra Costa County. Contact her at Gillian.Edevane@NBCuni.com