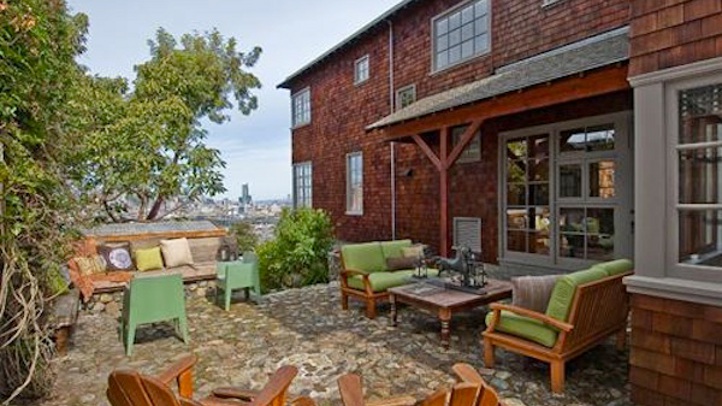 Those classic shingled cottages everyone loves can be cold, small, and awkward to live in. Some don't even have foundations. Here in Potrero Hill, someone's created a late- 20th century-version-on-steroids with all mod-cons plus local, sustainable agriculture.
The Basics: A 4-bed, 3.5-bath house in the Potrero Hill neighborhood, built in 1997 on three lots, no garage, asking $3.3M.
Not So Basic: A late-20th Century version of the ramshackle shingled houses that went up all over the Bay Area, it's about the closest thing to Marie Antionette's Petit Hameau at Versailles we're likely to see in San Francisco. Granted, currently no sheep, shepherdesses or chickens are on the premises, but it's certainly got the potential. There is an orchard and a somewhat formal vegetable garden, however, and we know a small flock of chickens could indeed be happy here. The house is an arrangement of classic Northern California vernacular cottages around a courtyard and a terrace:
The terrace has a hot tub with a view of downtown and only lacks a wood-fired pizza oven. Below, a look up at the house and a view of the orchard and vegetable garden, you're opportunity for locavore living:
Below, the entry hall, the dining room and the kitchen:
Actually, we think that's not really a dining room. It's more like a study or library in shape, and lacks the telltale pendant ceiling fixture over the table. The kitchen, with its George Nelson fixture in place, looks like it might have been the intended dining venue. Throughout the house, simple detailing and cabinetwork, like the master bedroom:
The great views come at a price— it's a steep climb up from the street, so one might need sherpas rather than shepherdesses to keep things humming along.
Listing: 752 Carolina Street, San Francisco [Redfin]