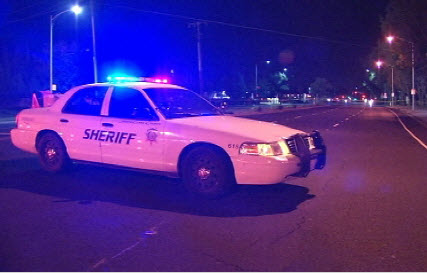 A routine stop Monday night in Cupertino turned into a real life "cops and robber"-like incident.

The Santa Clara County Sheriff's office said Monday night around 9 p.m. Sheriff's Deputy John Gonzalez conducted a pedestrian stop on a man on a bike who didn't have the right safety lighting to be riding at night.
This happened near Stevens Creek Boulevard and Tantau Avenue in Cupertino.
During that stop, deputy Gonzalez noticed a second man lurking around a vehicle at a nearby gas station. The deputy later ran the plate of that car and found it was stolen. He began searching the area and found the same man who had been lurking walking nearby. After a failed attempt to get him to talk, a 300 yard foot chase ensued. The sheriff's department said the suspect seemed to tire of the running and then turned toward the deputy and pulled out a firearm and aimed it at the officer.
The officer then grabbed his gun and fired one shot, hitting the man in the leg.
In the end, the firearm the suspect was holding turned out to be a BB gun. The man, Kevin Quinnette, was treated at a hospital and then placed into custody.
He faces several charges including felony resisting arrest and holding a replica firearm.
The investigation into the shooting lasted all night and roads were not reopened until about 8:30 a.m. Tuesday.
Deputy Gonzalez is a nine year veteran of the force.
Anyone with information regarding this incident is urged to contact Sgt. Leon or Sgt. Elder at (408) 808-4500 during normal business hours. For those wishing to remain anonymous they can call the Sheriff's Tip Line at (408) 808-4431.
Below is a photo of the BB gun courtesy of the Santa Clara County Sheriff's Department.