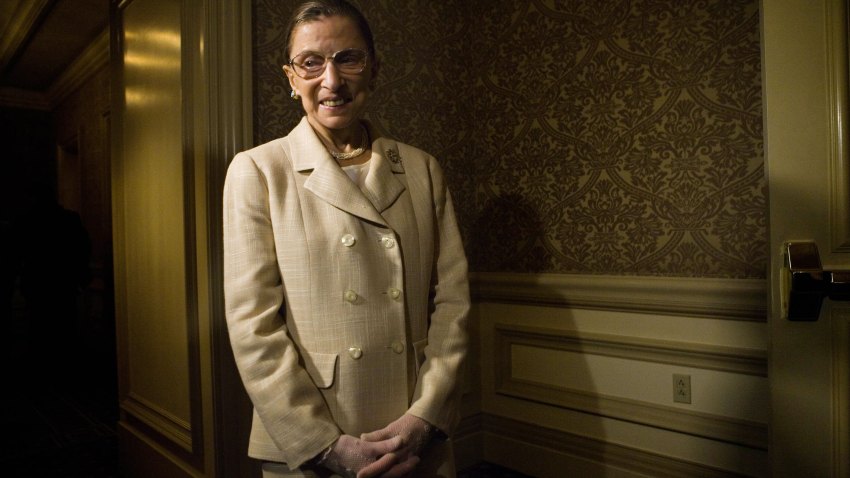 U.S. Supreme Court Justice Ruth Bader Ginsburg is an eloquent speaker and clearly one of the brilliant minds in the country.

Thursday during a speaking engagement at Hastings College of Law in the City, she will likely begin with a story that made headlines Tuesday and had nothing to do with the law.

Justice Ginsburg was on the United Airlines plane that had its passengers exit down the emergency evacuation chute after smoke was reported in one of the plane's engines. She slid down the slide like everybody else. A Dulles airport spokeswoman said three people were hurt in the evacuation, but only one of them needed to be taken to a hospital. The 78-year-old cancer survivor was not among the injured.

The emergency didn't stop Justice Ginsburg from keeping her date in San Francisco. Hastings promises she will make her speaking engagement after simply hopping on a later flight.
After she gets done with telling the mini-drama of the week, Ginsburg is scheduled to talk about the role of Supreme Court justices in our political system; abortion vs. choice; progress on achieving gender equality; First Amendment cases; Equal Protection cases; the role of foreign law in Supreme Court decisions; the legal limits of free speech, and working relationships among the justices.

Earlier in the day she is scheduled to mingle with the students by joining professor David Faigman for his Constitutional Law class. She is also supposed to meet with the staff of the UC Hastings Women's Law Journal.

If her current title isn't impressive enough, here's a few more details from Ginsburg's resume:
Professor of Law at Rutgers University School of Law from 1963-1972
Professor Columbia Law School from 1972-1980
Fellow at the Center for Advanced Study in the Behavioral Sciences in Stanford, 1977-1978
In 1971, she was instrumental in launching the Women's Rights Project of the American Civil Liberties Union
She served as the ACLU's General Counsel from 1973-1980
National Board of Directors from 1974-1980
She was appointed a Judge of the United States Court of Appeals for the District of Columbia Circuit in 1980
President Clinton nominated her as an Associate Justice of the Supreme Court where she took her seat August 10, 1993.