A racehorse that too-often finishes out of the money, can easily find itself out of luck.
Dennis Winfrey, a 78-year-old retired Salinas farmer and horse-lover, has seen it happen many, many times.
"A racehorse either pays his own way, or he's history," Winfrey said.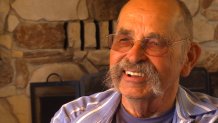 For more than 70 former harness racehorses, though, meeting Winfrey is something that turned their luck around.
Since 1990, Winfrey has found a second job for those old racehorses, and in the process given them a second life.
"It happened because I was playing with my hobby," Winfrey said.
That hobby is Civil War re-enacting.
Winfrey is the Stable Sargent for the California Historical Artillery Society. It is his teams of horses that pull the cannons and an Civil War-era ambulance at re-enactments up and down the West Coast.
"I'm not growing any more, so this is my big Disneyland," Winfrey said.
Winfrey says he did not set out to save the lives of the standard bred racehorses, it just so happened they had just the set of skills that make them perfect for what CHAS needed: horses that are used to pulling and no fazed by large crowds or loud sounds.
Winfrey says he had tried other breeds of horses over the years before settling on the standardbred. It didn't hurt that because the racehorses were no longer in great demand, he could get them cheap.
He got his last batch of horses from Sacramento's CalX Harness Racing for free.
"There are those that think the more money you pay for a horse, the better they are, and that's not the case," Winfrey said.
Winfrey now has more than 30 horses living on his ranch and participating in re-enactments. At a recent event at the Presidio of Monterey, CHAS had eight horses pulling a cannon and ambulance.
Winfrey's gruff persona doesn't permit him to get misty-eyed about saving the lives of so many beautiful creatures.
He just sees their arrangement as one that is beneficial for all parties.
"I was able to give 'em a job. Maybe they weren't good at their last one, but that doesn't concern me."