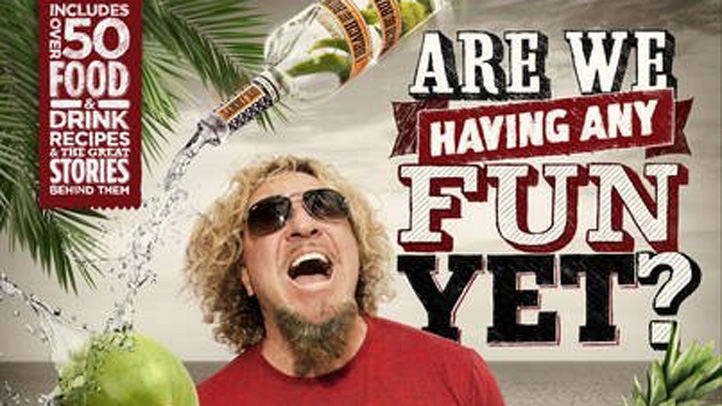 Move over, Guy Fieri.
Sammy Hagar is about to reveal his secrets for partying like a rock star in and out of the kitchen.
The Bay Area rocker and restaurateur's "Are We Having Any Fun Yet?: The Cooking and Partying Handbook" will be released on Sept. 15 by Dey Street Books.
Hagar teamed up with San Francisco Magazine food critic Josh Sens to pen the his self described "lifestyle cookbook," which includes 50 food and drink recipes and his singular brand of entertaining advice.
Among the recipes in the book are guest contributions from celebrity chefs such as Mario Batali and dishes from El Paseo, the Mill Valley restaurant he owns with Tyler Florence.
Those in search of a closer brush with the lifestyle can meet Hagar at his Bay Area book signing appearances at Diesel, A Bookstore in Larkspur on Sept. 20 and Books Inc. Opera Plaza in San Francisco on Sept. 23.
(function(d, s, id) { var js, fjs = d.getElementsByTagName(s)[0]; if (d.getElementById(id)) return; js = d.createElement(s); js.id = id; js.src = "//connect.facebook.net/en_GB/sdk.js#xfbml=1&version=v2.3"; fjs.parentNode.insertBefore(js, fjs);}(document, 'script', 'facebook-jssdk'));
"Are We Having Any Fun Yet?" The Cooking & Partying Handbook by Sammy Hagar

You read all about Sammy Hagar's rockin' life in his #1 New York Times Bestselling memoir, "RED". Now, learn how to eat, drink, and party like the Red Rocker himself. "I thought writing my autobiography was a blast but I swear writing my first lifestyle cookbook was even more fun. So asking "Are We Having Any Fun Yet?" The answer is "YES I AM!!!" - Sammy Hagarhttp://redrocker.com/arewehavinganyfunyet/

Posted by Sammy Hagar (The Red Rocker) on Wednesday, 17 June 2015
Copyright FREEL - NBC Local Media