Facebook and Google aren't the only headquarters expanding their campuses in Bay Area cities. San Bruno-based YouTube has begun a 15-month review process to connect its existing eight buildings together in a campus-like environment at its Peninsula headquarters.
The tech company currently owns roughly 900,000 of the 1.5 million square feet at Bayhill Office Park and is required to fund the City of San Bruno's research and development of the project.
City officials have also stated that the other businesses located in the Bayhill Office Park and community members will be involved in the development process, which are set to include town halls, environmental research and an economic analysis.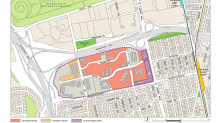 YouTube has been based out of the Bayhill Office Park for roughly a decade and employs about 1,700 employees at its headquarters. The new plan will be focused on the next two decades of its anticipated growth, during which time it expects to add around 350 employees annually.
"We are excited to engage in conversation on the Bayhill Specific Plan," a YouTube spokesperson wrote in a statement to NBC Bay Area. "YouTube is enthusiastic about San Bruno's future and the part we have to play in that future as a member of the community."
The San Bruno City Council and Planning Commission also stated that developing a long-term, specific plan will allow greater flexibility as well as the ability to "tailor development standards toward the goals of [Bayhill Office Park]."
The first town hall is set for 6:30 to 8:30 p.m. Wednesday, Aug. 30, at the San Bruno Senior Center, 1555 Crystal Springs Road.
More about the proposal can be found on the city website.