Growing up in San Carlos, Lindsay DeAlba doesn't remember a time in her life that she wasn't creating art.
In fact, the 31-year-old teacher would love, one day, to find a way to support herself with her art. Of course, she would have to sell a lot of it to do that. All of which makes what Lindsay has been doing these past few months rather strange: driving up and down the Peninsula in her green Volkswagen Beetle, giving her art away for free.
With a twist, of course.
Every Friday this summer Lindsay has been dropping the art, which she creates in her studio in her mother's backyard, at various spots along with a note letting people know it's free. All she asks is that finders and keepers pay her act of kindness forward.
WATCH MORE BAY AREA PROUD STORIES
"It's such a small gesture but if you can make one person happy, you you're making some type of difference."
Project Happiness, as she calls it, came to life when Lindsay made a spur of the moment decision while sitting in her studio and thinking about all of the difficult and ugly things she had been hearing on the news. Looking around at her pieces of art, she realized that she wanted others to have them.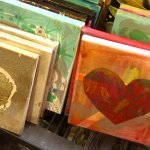 "What good is all this art sitting in my studio just for me?"
Wearing pajamas and a coat, she hopped in her car with 20 of her best paintings in hand.
Within a half an hour of her first art drop, the texts messages, emails and social media posts were already flooding in from friends, family and strangers who had picked up her pieces.
"I was nervous the whole time and then after I felt, like, this sense of relief and like yes, I did it!" she says. "It was kind of a rush."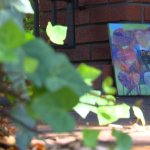 She immediately decided it was something she wanted to keep doing. In addition to her, weekly, art drops, Lindsay has been contacted by people in more than a dozen states as well as seven countries who have learned what she is doing and want to be a part of it. Lindsay ships those people paintings, they leave them in public places, and share pictures of the scene with Lindsay.
"Happiness is a combination of positive moments. So people are creating positive moments for themselves by dropping the art and they're also creating positive moments for the people finding the art."