Nearly 400 commuter shuttles travel through San Francisco every day, but are they paying their fair share? That's the question posed by critics who argue companies that operate these "Tech Buses" should pay more for their use of public bus stops and city streets.
If a driver stops in a bus zone, they're looking at $288 ticket from the San Francisco Municipal Transportation Agency. But the city's commuter shuttle program allows tech buses to pay just $7.31 each time they stop to drop off passengers at roughly 100 stops across San Francisco. Most of those drop-off spots are located at public bus stops.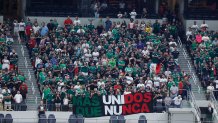 In March, the Citizen's Advisory Council for SFMTA urged the agency to charge tech buses more per stop and consider raising the fees to "fair market value."
"It's essential that Muni keeps its eye on the prize, especially with regards to equity," Vice Chair of the Citizen's Advisory Council Neil Ballard told the SFMTA Board of Directors. The Board has yet to make a decision on the proposal.
COST OF DOING BUSINESS
Mark Gruberg has been driving taxis since 1983 and sits on the Board for the San Francisco Taxi Workers Alliance. Gruberg also questions whether tech bus operators are getting a discount when compared to the $250,000 fee San Francisco charges taxi operators for a medallion.
"I see it as terribly inconsistent and extremely unfair," Gruberg told NBC Bay Area.
In 2012, the city's taxi union sued SFMTA in an attempt to block the fee, calling it an "unconstitutional tax." But the city successfully argued that the medallion fee is fair since cab drivers use public streets "as a place of business for private gain." Gruberg believes that same argument should apply for tech buses.
"I think there needs to be fairness across the board," Gruberg said.
CHARGED ENOUGH
Rufus Jeffiris with the advocacy group Bay Area Council helps businesses provide commuter shuttle service for employees. Jeffiris worked with SFMTA to establish the current guidelines for the commuter shuttle program and believes the shuttles provide an overall benefit for the city.
"The shuttles are eliminating 2 million single-passenger car trips annually from San Francisco's congested streets and avoiding 2,000 metric tons of harmful tailpipe emissions," Jeffiris said in a statement. "The companies that provide this important service are doing it at their own expense, to the tune of millions of dollars a year. In addition, the operators pay all the same state and local vehicle, license and other regulatory fees and taxes, including fuel taxes, that pay for the maintenance of the roads and streets they're using."
• Click here to read full statement from Bay Area Council
Tom Maguire oversees the commuter shuttle program in his capacity as SFMTA Director, Sustainable Streets. Maguire told NBC Bay Area that unlike taxi medallions, the price of a commuter shuttle permit is capped under California law. SFMTA can only charge what it costs to run the shuttle program. Residents who oppose the commuter shuttle program disagree with that interpretation and accuse the city of brokering a sweetheart deal.
"The fact that we are generating $6 million of permit fee revenue for a mode of transportation (commuter shuttles) that carries about 10,000 people a day shows that we're actually taking a very strong approach to regulation," Maguire said.
Maguire also pointed out that the commuter shuttle program is voluntary, so if the city raises fees, companies may choose to opt out.
"There's nothing I could do if a shuttle operator decided tomorrow that they were going to drop out of the program, stop sending us checks, and start operating on narrow hilly streets in Noe Valley or Cow Hollow or Bernal Heights. Nothing we could do."
• Tech Buses Commit Hundreds of Violations on San Francisco Streets
FAIRNESS IN FEES
Supervisor Jane Kim said she wants to see more transparency at SFMTA when it comes to calculating fees.
"I have been asking the last three years for SFMTA to justify how they come up with cost recovery. I am often asked why a shuttle bus can use a public bus stop and pay $7 a stop and why a mother dropping off her kids to school gets a $100-plus ticket when using the same bus stop," Kim told NBC Bay Area.
As part of next year's budget, SFMTA plans to increase the per-stop fee for commuter shuttles by 34 cents to help hire more enforcement officers to keep watch over the buses. The San Francisco Board of Supervisors has until June 30 to approve the plan.
______________________________________
Need to contact our Investigative Unit?
• You can remain anonymous
• 1-888-996-TIPS
______________________________________