Doug MacNeil, a 62-year old small business owner, believes the amount of trash, feces, and needles scattered throughout San Francisco has only increased since he stepped on a hypodermic needle, less than two years ago, outside his book binding business in the Mission neighborhood.
"I felt a sting in my ankle and sure enough I stepped on a needle," he said. "I called the doctor and he had me come in and gave me a test and I had to go through a series of tests over the course of a year and was finally given a clean bill [of health] after a year."
MacNeil had to undergo repeated testing for HIV and Hepatitis B, according to medical records his physician provided to the Investigative Unit.
'Sometimes the Stench is Unbearable'
The incident, which occurred in July 2016, is emblematic of a serious lack of basic cleanliness, argues MacNeil.
"Sometimes the stench is unbearable," he said. "It's just appalling the city allows this to go on."
MacNeil, a Bay Area native, says conditions are the worst he has ever seen and believes the amount of trash, feces, and needles scattered across the city is hurting businesses, including his.
"Customers complain when they come by to see me and I've had employees saying they don't want to work here because they don't like walking past it," he said.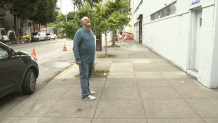 NBC Bay Area Investigation Goes Viral
A recent NBC Bay Area Investigation revealed a potentially dangerous combination of trash, feces, and needles scattered along dozens of blocks in downtown San Francisco not far from major tourist spots, hotels, and even a preschool.
Across social media, the findings went viral. Major news outlets across the country also picked up the story.
San Francisco's Brand and Reputation is being Jeopardized
"We hear on a regular basis that San Francisco's brand and reputation is being jeopardized by the state of our streets," said Tallia Hart, CEO of San Francisco's Chamber of Commerce.
The issue is expected to become a major talking point in San Francisco's race for mayor. The five candidates – Angela Alioto, London Breed, Richie Greenberg, Jane Kim, and Mark Leno – took questions directly from business owners Thursday night as part of a forum organized by the chamber of commerce.
25 Percent of San Francisco's Visitors Say They Won't Return, Blame Dirty Streets
The event capped a full day of activities for a delegation of roughly 200 business owners and leaders. The group descended on city hall to voice their top concerns as part of the annual advocacy event. San Francisco's lack of clean and safe streets was among the top priorities for the business delegation, which included representatives from national retailers and major hotel chains.
"Long term is going to be where it hurts us," Hart said. "There's about 25 percent of our visitors that tell us because of the state of our streets, they will not return to San Francisco."
______________________________________
Need to contact our Investigative Unit?
• You can remain anonymous
• 1-888-996-TIPS
______________________________________