When Xander Schultz and fiancée Zoë Pappis left for a European vacation last fall, the San Francisco couple admit it was a meant to be a "selfish" time.
Schultz, whose latest technology startup had recently folded, was looking for a chance to refresh and re-charge.
WATCH MORE BAY AREA PROUD STORIES
"I had my soul ripped out of my chest," Schultz said of the experience.
Schultz and Pappis say their plans included little more than just lounging on beaches and drinking cappuccinos in Italy but a humanitarian crisis unfolding at the time turned their selfish adventure into a selfless one.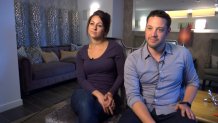 Thousands of Syrian refugees were trying to escape their war-torn country and making a dangerous journey across the Aegean Sea to get to Greece.
Schultz and Pappis were riveted by the tragedy unfolding so close to where they were. "Instead of laying on the beach we'd be on the beach doing research, learning more," Pappis said. "Before we realized it, we were spending all our time doing this. I said, 'Let's just get out there.'"
Schultz and Pappis booked a flight to the Greek island of Lesbos, where many of the refugees were landing. The pair immediately started volunteering with nonprofit organizations that were welcoming the refugees who made it ashore, provided them with essentials and helped them on their way.
The couple was so moved by what they saw, they wanted to do more.
But what?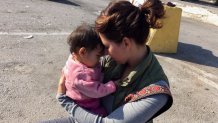 The answer to that question, it turned out, was laying right at their feet.
Thousands upon thousands of discarded life vests, worn by refugees on their dangerous journey, were now discarded all along Lesbos beaches.
"Upon flying into the island you could see the entire island, just all the shores just filled with bright orange," Pappis said. It was Pappis who came up with the idea of "upcycling" the discarded vests, not only removing the trash from the island but benefitting the refugees in the process.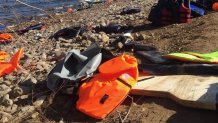 The couple have hired local seamstresses to turn the material from the life vests into wristbands. Thousands of the bands have already been crafted and the couple plan to begin selling them on April 20th through an Indegogo campaign.
"I want this to be a stance of humanity above borders, above religion, above all else.
The money Schultz and Pappis raise from the sales will be donated to relief organizations still working with refugees to handle the ongoing humanitarian crisis in the region.