It wasn't as dramatic as rescuing someone from a burning building or snapping someone back from the dead with a defibrillator. But to David Clark, the four San Francisco firefighters who carried him and his wheelchair down three flights of stairs were heroes nonetheless. Even if it wasn't technically life-or-death.
For three weeks this spring, Clark was stuck in his third floor apartment in San Francisco's Western Addition while the sketchy elevator down the hall was undergoing renovation. Clark was left quadriplegic in 1986 as the result of a random shooting that left a bullet pressed against his spine. He's lived in the same assisted-living building since 1989.
The broken elevator rendered the 28 steps between his apartment and the ground floor as insurmountable as a hike up Mount Everest. Clark said he was offered the opportunity to move someplace else during the elevator work but he opted to stay in his apartment to be near the comforts that make his life manageable. But he soon discovered the lack of mobility made his world stiflingly small.
"It's almost like being in a jail," Clark said of life without the elevator.
In the midst of the three weeks the elevator was out of commission, an anniversary memorial service for a friend who had died came up. Even though his parents urged him to attend, Clark didn't see any way down the three flights of stairs.
"I would've jumped out the window I suppose," Clark deadpanned, "but it didn't come to that."
Instead, his mother emailed a firefighter cousin in West Virginia, who in turn emailed someone from the San Francisco Fire Department. San Francisco firefighter Dan Casey said the email came to the department's union office.
"He told us about his cousin who lives here in San Francisco," Casey said, "and was a quadriplegic and has mobility issues."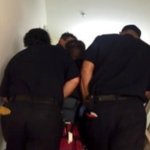 On the day of the memorial gathering, Casey reached out to firefighters from Station 5 to see if they could help. A crew of four firefighters showed-up at Clark's apartment in between calls.
"I responded with my crew," said fire department Captain Mike Maloney. "A very strong crew, which was very nice."
The firefighters pulled the wheels off Clark's wheelchair, and hoisted him up. He could see the tops of their heads — a view one doesn't normally enjoy from chair height.
"It was just really interesting going down three flights of stairs," Clark said. "I kept wanting to reach down and push my wheels and help somehow."
"I started to think I hope my old back holds up during this operation," Maloney recalled with a grin.
The crew whisked Clark down the steps in just a couple minutes. Clark and his friend Tammy Creighton boarded a special disability bus for the memorial gathering. After the event, when the bus arrived back at Clark's apartment, the same fire crew was waiting for him.
"It's a little different taking somebody back up the stairs," joked firefighter Lorenzo Ibarra.
The four men once again lifted Clark, a load of around 200 pounds, and quickly spirited him up the 28 narrow steps.
"They had rethought a way to do it," Creighton said, "and going up I think was even faster."
The firefighters described Operation David Clark as fairly routine — the kind of public assistance they do weekly and sometimes daily.
"It's a little weird for us to talk about," Casey said "because it's something we actually do anytime for anybody."
"It's a seemingly insignificant act," Maloney downplayed. "But to David it sounds like it was a big deal and that feels good."
To Clark, the journey down and up the staircase was like scaling a spiritual mountain — chipping away at 30 years of psychical struggles that has increasingly kept him inside. It took him back to the years following the shooting that left him paralyzed, when he would play wheelchair rugby and head out into the world more readily.
"I don't like to go out much anymore," Clark admitted. "Kind of comfortable in my cocoon here."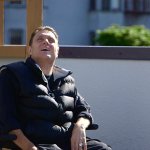 Creighton hoped the brief adventure might inspire Clark to venture out more, especially now that it wouldn't require a strong crew to carry him down.

"Maybe then he'd be likely to go out more often even in the elevator," Creighton said. "Now that the elevator's working."
Clark wheeled himself down the hallway of his building, to an outdoor patio — past the elevator that was now functioning just fine. He gazed up at the growing clouds overhead and considered his recent venture.
"Being able to go out was a huge thing," he said. "The fire department made it happen."