Neikko Sebers remembers almost nothing of what happened on October 25th, 2017. At least, nothing before 7:30 pm.
It was about that time Sebers remembers regaining consciousness in the front seat of his 6-week-old Subaru WRX, pinned against a tree in Golden Gate Park, staring up at broken branches.
"There were branches all above me that were snapped," Sebers said. "I didn't even know how my car got that high up there." Sebers would later learn he failed to navigate a turn on Park Presidio Bypass and his car careened 50 yards before smashing into that tree.
"Brake lights and a tree," is how Paramedic Danny McAtee described the scene as he and partner Seamus O'Donnell arrived a short time later. Sebers car had crumpled around him, trapping him in the wreckage.
"An arm, his neck, and the left side of his face are all we could access," O'Donnell said.
The pair of paramedics set to work on Sebers' many injuries, trying to keep him alive and stable while fellow firefighters worked to remove him from the wreckage. Freeing Sebers, however, turned out to be much more challenging an operation than expected.
"The car was crushed and folded on top of our patient," said Rescue Captain Beth Goudreau. "It was just completely mangled and he was part of that. He was entangled in it, embedded in the car." In decades of firefighting experience, Goudreau said she had rarely seen a victim in such a situation.
For the next two hours, crews tried every technique in the manual to free Sebers.
The car's roof and doors were peeled away, but nothing worked to free Sebers' leg, trapped at the ankle underneath the dashboard. Making matters worse, efforts to pull away one part of the car would cause another to shift, increasing the danger to Sebers. He was losing large amounts of blood and telling rescuers that he felt sleepy. Concerns shifted from saving Sebers leg to saving his life.
Goudreau said San Francisco General Hospital was contacted about sending a surgeon to Golden Gate Park to perform a field amputation of Sebers' leg in order to free him. No one on the scene, however, wanted to see that happen.
"There was a moment when I stood up and took a deep breath and said to everyone, 'C'mon guys, I'm out of ideas. What else?'" Goudreau said.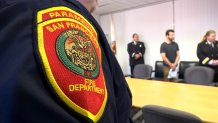 It was District Chief Bob Postel who ended up providing the 'what else.'
"I started looking around, looking at the big picture," Postel said. In that picture, Postel noticed two tow trucks waiting in the wings to cart off the wreckage once the rescue was complete. It was then that Postel got the idea for the tow truck to get involved in the rescue.
Never having even heard of such a maneuver, let alone seen it done, Postel ordered cables from the trucks attached to either end of the car. The signal was then given to pull.
"Having that force from two different directions eventually enabled us to stretch the car and lift the dash enough to get the guys foot off," Postel said.
"Ultimately it worked," McAtee said. "Chief Postel's idea was what saved the whole everything."
"I think it's great that we got him out and I think it's great that he still has his leg," Goudreau said.
It was on that leg that Sebers recently was able to walk up to his rescuers at Fire Department Headquarters and thank them in person for their creativity in his time of crisis
"They mean the world to me. They saved my life," Sebers said.