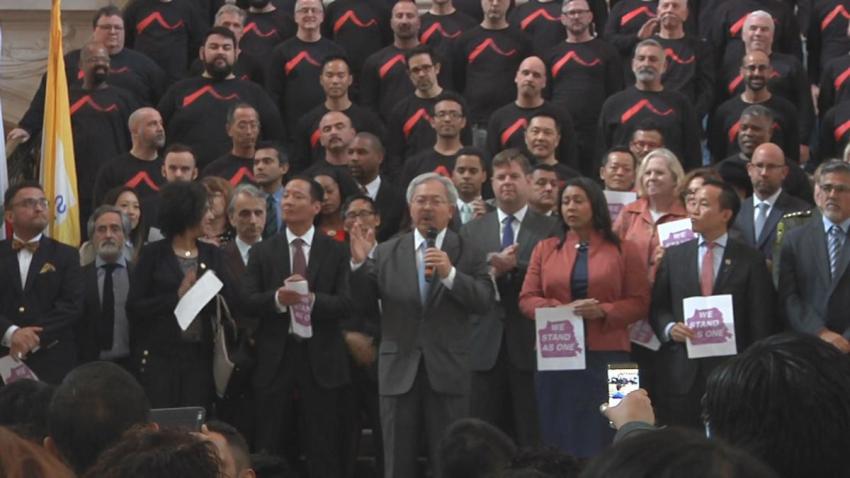 The San Francisco Gay Men's Chorus will be singing in the South. And that's all because of Donald Trump.
The upcoming singing tour called "Lavender Pen" is a concerted effort to protect and fight for the civil liberties the gay movement has enjoyed in recent history, and to "bring forth the light" by doing outreach in the reddest of states.
"There is such a sense of despair and downright depression now," Executive Director Chris Verdugo told NBC Bay Area, "that we asked ourselves, 'What can we do? This was the best response we could come up with."
"This" is a tour, possibly as early as this summer, to North Carolina, Georgia, Mississippi, Alabama and Florida. One part of the mission is to help embolden the LGBTQ community in red states where homosexuality isn't embraced as much as it is in Democratic strongholds and be "beacons of hope to them," Verdugo said. At the same time, the choral members want to talk to people "across the aisle and start dialogues." If there are fights and protests, he said, the chorus will be ready for it.
Music, choral members hope, will be the common language.
"We hope our presence and our music will encourage our brothers and sisters, educate others and challenge those communities to think differently," Artistic Director Timothy Seelig said. "We are all grappling with the shock of the election returns. There is widespread fear and despair among many communities across our diverse country."
Three days after Trump was elected president, the group released a video featuring a song called "There Will be Light" and shows the plight of San Francisco's first gay supervisor Harvey Milk; signs that read "Silence=Death:' the struggle for same-sex marriage equality; the current fight over transgender bathrooms; and the devastation left behind when a gunman killed party goers at a gay club in Orlando. The chorus sang the group live and uninvited in Denver, Colorado, outside a conservative Focus on the Family event.
California overwhelmingly voted for Hillary Clinton for president, and exit polls showed that 78 percent of the LGBTQ community voted for her as well. NBC Out interviewed some of the 14 percent who voted for Trump, and many told the news agency that they cared more about things like gun rights than gay rights. Others said they worried about "radical Islam" and keeping jobs in America as other reasons why they voted for Trump.
Since 1978 when Milk and then-Mayor George Moscone were assassinated, the San Francisco Gay Men's Chorus said its members have tried to serve as an "international standard-bearer for a powerful mix of extraordinary musical excellence and mission-driven activism." Many of their songs have touched on bullying and other LGBTQ issues. This week, the chorus stood alongside San Francisco Mayor Ed Lee, who reminded the public that the city provides sanctuary to undocumented immigrants.
Verdugo said that the chorus had originally thought about traveling overseas for its next big summer tour. But that changed on Election Night.
"Our work is needed at home," he said.