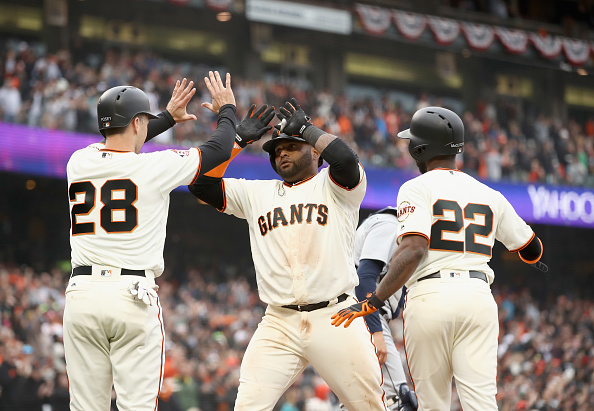 After a demolition of the Mariners on Wednesday afternoon, the Giants have three wins.
The losing pitchers in those games: Clayton Kershaw, Kenley Jansen and Felix Hernandez. The Mariners right-hander no longer resembles the Cy Young-worthy version of old, but either way, the Giants hammered him. Gorkys Hernandez, Brandon Belt and Pablo Sandoval all took Formerly King Felix deep and the Giants kept adding on. They won 10-1, evening their record through six games.
Here are five things to know from the rare day when the Giants started a game at 4:15 p.m. Perhaps they should do that more often.
GORKYS ENDS HIS DROUGHT
— Gorkys took the Hernandez crown in the second inning, crushing a cement-mixer from Felix into the seats in left-center. The homer was Hernandez's first since Sept. 13, 2016. He led Major League Baseball last season with 348 at-bats without a home run.
APPROACHING A MILESTONE
— Belt went the opposite way in the fifth inning for his first homer of the year. Belt's next home run will be the 100th of his career. Brandon Crawford welcomed James Pazos with a solo homer. That was his 74th in the big leagues. All four starting infielders now have a home run, along with Sandoval, the primary backup at two spots.
KEEPING THE LINE MOVING
— The Giants sent at least seven hitters to the plate in two of the first five frames, and the rallies couldn't have been more different. The three-run first inning went: walk, broken-bat single, infield single, walk, wild pitch, sacrifice fly. In the fifth, the Giants hit three homers and scored five runs. It was the first three-homer inning for the Giants since June 2, 2016
BETTER DEFENSE
— There were two balls hit to the outfield in the third inning that would have easily dropped for a hit with last season's outfield defense. Hernandez chased one down in the left-center gap and Andrew McCutchen went a long way into Triples Alley to rob Kyle Seager of what would have been a two-run base hit.
CUETO DOMINANT AGAIN
— Johnny Cueto was charged with one run on eight scattered hits. In two starts this season, Cueto has allowed just one run over 13 innings. A year ago, he had just three total starts in which he gave up fewer than two runs.