The goats are full.
Last week we told you about a program by City Grazing in San Francisco that allows people to feed their old Christmas trees to goats. It's an ecologically sound alternative to throwing the trees away.
But the San Francisco Fire Department announced Wednesday the goats have eaten too many trees and won't eat any more. City Grazing's 80 goats were scheduled to munch more trees this weekend.
In a post on its website, City Grazing said, "The goats are full of xmas and refusing any more! Thanks to all of you who brought trees already. We'll be open January 9th and 10th from 12-4 for visiting, but we've reached capacity for tree eating... See you next year!"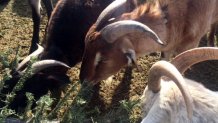 If you didn't give get to feed your tree to a goat, San Francisco's curbside tree collection runs through next Saturday.