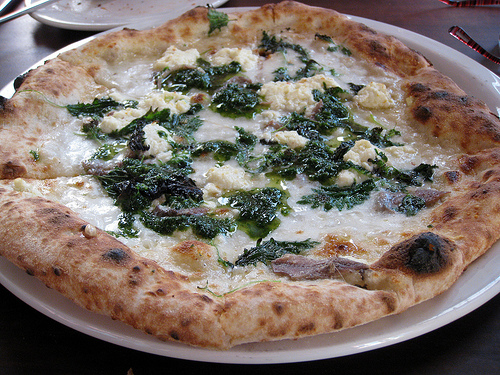 I can't remember the last time I heard so much buzz about a restaurant since Flour + Water opened up in San Francisco's Mission District.

Fresh off of a strong review in the Chronicle, the restaurant was a packed house every night of the week. Things were no different when I visited Flour + Water with a group to try their renowned hand-rolled pastas and house-cured meats on a weekday evening. The restaurant opens at 5:30 so we showed up at 5:15 to be on the safe side, but a line had already formed outside.

Our group waited for about half an hour before we were seated at a long communal wooden table and began to peruse the menu. We started with the yellow peach and rabbit confit salad.

Served with pistachios and wild arugula, this salad was refreshing and despite the wide range of flavors, it worked. The peaches were succulent without being too sweet, so it complimented rather than overwhelmed the rabbit.

Next we tried the crispy oxtail terrine.

This was probably my favorite dish of the meal. Terrines have a texture similar to pate and they're usually not crisped on the outside. Flour + Water managed to pull it off though, and the terrine held up its form both on the interior and exterior. They were served on top of a watercress salad with delicious bits of chantrelle mushrooms.

Our third dish was the biancoverde pizza.

Topped with ricotta cheese, anchovies and nettle pesto, this was a rich pizza without being too greasy. It was also my first foray into nettles, which had a very mild flavor. I'm curious to try them again. While the anchovies provided a salty kick, I would have been even happier if this pizza came with a healthy sprinkling of garlic or something equally flavorful.

Our last dish was the eggplant and crescenza cappelletti.

Cappelletti are similar to tortellini and these were incredibly ethereal. The eggplant filling was light and was topped cherry tomatoes and gypsy peppers. After having sampled this dish, I can easily see what all the fuss is about over Flour + Water's handmade pasta.
It's been awhile since I've eaten there, and I imagine that the initial crowds at Flour + Water may have died down a bit. That being said, Flour + Water's menu is constantly changing, which only means one thing: it's time for a return visit.
Mariam Hosseini is a Bay Area native who has been writing about food and travel for six years. She blogs regularly at yogurtsoda.com.