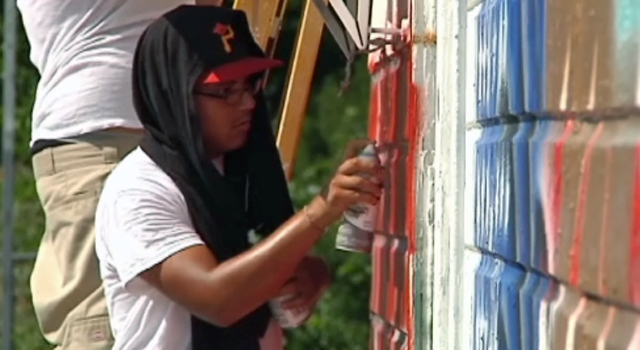 San Francisco is taking a novel approach to combating graffiti. The City is handing the artists the spray can and pointing to which vacant building it would like tagged.

Mayor Gavin Newsom announced a temporary public art project Tuesday that officials hope will revitalize the parts of the City hit hardest by the recession.

Starting in August, local artists will be paid a small stipend to turn vacant storefronts into art projects that reflect the history and character of their neighborhoods, according to the mayor's office.

The project, titled "Art in Storefronts," will be installed on Taylor Street in the Tenderloin; Third Street in the Bayview; and Market and 24th streets in the Mission.

"Art in Storefronts encourages a temporary alternative use of storefronts that will reinvigorate our neighborhoods and commercial corridors, improve streetscape conditions and safety, and support merchants by increasing foot traffic," Newsom said in a statement.

The project was initiated by the Office of Economic and Workforce Development and the San Francisco Arts Commission. The city is also partnering with Triple Base Gallery, a Mission District organization that has curated art in storefronts projects in the past.

Officials say Art in Storefronts will give artists who have been hit hard by the economic downturn an opportunity to showcase their work and garner public recognition.

They also hope it will help get the commercial spaces leased.

"The mayor's Art in Storefronts program is an essential part of our economic stimulus plan," said Nathan Ballard, Newsom's spokesman.

Properties that will showcase the art will be selected by community-based organizations including the Central Market Community Benefit District, the Tenderloin Economic Development Project and the Third Street Corridor Project of the Renaissance/Bayview Business Resource Center.

Artists who want to participate must apply by Aug. 14, and all genres of art will be considered.

Applications will be reviewed by representatives from the city arts commission and the mayor's office, as well as community representatives.

Officials say the program will launch in September and run through January 2010, culminating in a Web site and toolkit for anyone who wants to implement similar projects in the future.
Bay City News contributed to this report.