What to Know
Over 27,500 runners are expected to participate in the 41st annual San Francisco Marathon
Marathon will include a 5k, two half marathons, one full marathon and an ultramarathon, affecting traffic throughout the city
Festivities begin Friday with seminars featuring 25 guest speakers including 2020 Olympic contender Jorge Maravilla
Get your running shoes on and get ready to race alongside some of the most beautiful and iconic San Francisco routes as the 41st annual San Francisco Marathon, sponsored by Biofreeze, kicks off this weekend!
San Francisco streets will be filled with over 27,500 runners and 50,000 spectators on July 29, as the marathon will include several races for runners of all levels, including a 5k, two half marathons, one full marathon and an ultramarathon.
"Runners will enjoy waterfront miles along the Embarcadero, Fisherman's Wharf, and Crissy Field," the marathon's website read. "Feel their heart pound as they race across the Golden Gate Bridge, speed past landmarks like Coit Tower, Golden Gate Park, and AT&T Park and pound the pavement through San Francisco's liveliest neighborhoods like Haight-Ashbury and The Mission."
Though runners won't line up for the races until Sunday, marathon festivities will begin Friday at the Festival Pavilion at Fort Mason. Runners will be able to pick up their race bibs and other swag Friday and Saturday while attending seminars featuring 25 speakers including author Mill Valley and 2020 Olympic contender Jorge Maravilla.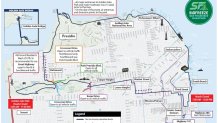 The ultramarathon will kick off the big day at 12 a.m. on Mission Street and the Embarcadero, followed by the full marathon and two half marathons. The last race of the day will be the 5k at 7:45 a.m. and all races are expected to wrap up by 10 a.m. followed by a finish line festival at the Embarcadero Plaza.
The races will have an impact on multiple roads in the city, part of the Embarcadero will be closed from 12 a.m. to 2:45 p.m., Fisherman's Wharf from 5 a.m. to 7:30 a.m. and the Golden Gate Bridge parking area from midnight to 10 a.m.
Part of the Sunset and Richmond District will be affected from 6 a.m. to 11:30 a.m. as well as streets like Upper and Lower Haight Streets, Market, Third Street and the South Beach area.
Public transportation will also be affected, check out the latest reroutes and delays here.