Police and family members on Wednesday asked the public for help in identifying three persons of interest in the killing of Carlo Tateo, an Oakland teacher who was shot in San Francisco's South of Market neighborhood in June, after he told two men to stop harassing women he was with.
Tateo, 31, was out with a group of friends around 2 a.m. on June 18 when he was shot in the 1500 block of Folsom Street, in an area near the Holy Cow and Calle 11 nightclubs, according to police.
Cmdr. Greg McEachern said two men in the area began to harass some women in the group, and Tateo asked them to stop. That's when one of the men pulled out a gun and shot Tateo.
McEachern said police do not believe Tateo knew the men. There was no attempted robbery before the shooting and there does not appear to have been any other response or interaction before one of the suspects opened fire.
"Every homicide is tragic, but this homicide is senseless," McEachern said.
Police have released surveillance video showing three people of interest — two men and a woman — in the area near the shooting. One of the men has facial hair who is wearing a watch cap and dark colored jacket, while another has long dreads and is wearing a brightly colored jacket and ball cap.
Police are hoping to learn whether other members of the public might have encountered the men or been harassed by them as they passed through the busy nightclub area.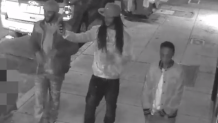 Tateo was a physical education teacher at Skyline High School in Oakland, his alma mater, and was set to become the offensive coordinator for the school's football team this fall. He leaves behind a 2-year-old daughter, Lesieli, who was present at Wednesday's news conference along with her mother, Leiana Pahulu.
His uncle Don Apperson said today that Tateo worked at a center in East Oakland helping troubled teens "get their lives together."
"Carlo was a great kid, his life was about helping young kids in trouble," Apperson said.
Sonja Tateo, Carlo's mother, said she was more focused on trying to "hold my family together" than on what happened the night of the shooting, but urged anyone in the public with information to come forward.
"We don't want this to happen to another family," Sonja Tateo said.
She continued: "Carlo was deeply loved in the Oakland community. He was a mentor to teens in the community, he had a large circle of friends, he has lots of family that love him. We just want this resolved so that the community is a little more safe than it is right now."
The surveillance video can be seen online.
Anyone with information on the persons of interest seen in the video is asked to call police at (415) 575-4444 or to text a tip to TIP411 and start the message with "SFPD." Tips can be made anonymously.
Copyright BAYCN - Bay City News