Police announced Thursday they've arrested a suspect in connection with the robbery of an elderly man's recyclables in the city's Bayview neighborhood.
According to police, officers have arrested and booked 20-year-old Dwayne Grayson on the following charges: robbery, elder abuse, a probation violation for a prior robbery conviction and a hate crime enhancement.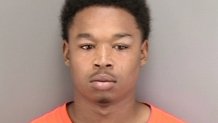 The robbery happened Saturday around 5:30 p.m. at a San Francisco Housing Authority complex on Osceola Lane. It was caught on tape in a widely shared viral video.
Grayson is allegedly the person who filmed the incident and uploaded it to social media. Officers took him into custody Thursday morning in the 100 block of Kirkwood Ave., police said.
Investigators have identified a second suspect in connection with the robbery and officers are currently looking for him, according to police.
In the video, released Sunday, suspects appear to rob an elderly Asian man of a cart of recyclables he had collected from the area. During the alleged robbery, several bystanders appear to film and taunt the victim, and at least one person can be heard saying, "I hate Asians."
Police described the victim as a 68-year-old man. Although he complained of pain from being struck on the back of the head, he had no visible injuries, police said.
In a second video that surfaced on social media, the victim can be seen talking to two private security officers. Police said they are in touch with the representatives of the security company that patrols the public housing in the area, according to police.
In response to the robbery, Mayor London Breed and Supervisor Shamann Walton, whose supervisorial district includes the Bayview, held a "Community Unity and Healing Rally" on Thursday afternoon at the complex where the alleged offense occurred. Sen. Scott Wiener, D-San Francisco, Assemblymember David Chiu, D-San Francisco, and members of the city's faith-based community also were there.
The case remains under investigation, police said.
Anyone with information is being asked to call police's anonymous tip line at (415) 575-4444 or to text a tip to TIP411 with SFPD at the beginning of the message.
Copyright BAYCN - Bay City News