San Francisco's process for routinely hauling away garbage is inefficient and dangerous, according to whistleblowers, who spoke to the NBC Bay Area Investigative Unit. Their concerns come amid a months-long NBC Bay Area investigation, which revealed serious safety violations inside the city's embattled street cleaning program, including a failure to properly secure loads when transporting garbage across town to the dump. While it's unclear how long San Francisco Public Works has potentially been breaking state safety laws, violations may date back at least several years.
NBC Bay Area has also learned a state investigation is underway into potential safety hazards. Cal/OSHA, the state's watchdog for workplace safety violations, has launched its own probe.
'There is No Safety, Here'
"Our [department's] motto is safety first, and there is no safety, here, with the way they're doing things," said Pete Whitcomb, a Public Works truck driver of 17 years. "It's a bomb ready to explode."
Whitcomb spoke exclusively to NBC Bay Area, along with fellow truck driver, James Long, a Public Works employee of 19 years.
"There is a chance that they could kill somebody," said Long, who is concerned his own department is putting drivers, cyclists, and pedestrians at risk by failing to regulate the way employees carry trash across the city.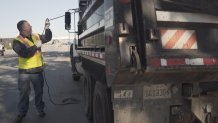 Overweight and Overloaded
According to California law, vehicles carrying trash must be "totally covered in a manner that will prevent the load or any part of the load from spilling or falling from the vehicle."
NBC Bay Area spent three weeks undercover in San Francisco, following the city's street cleaning crews, and observed more than 100 pickup trucks hauling trash without their loads secured, tarped, or tied down, even though garbage piled higher than the walls of their truck beds. The vehicles carried mattresses, televisions, wooden pallets, trash bags, and other junk. During the investigation, the only secured or tarped vehicles observed entering the dump were non-city vehicles.
Overweight trucks can also create a safety hazard on the roadway since carrying a load beyond a vehicle's weight capacity can inhibit a driver's ability to properly break or stop. Records obtained and analyzed by the NBC Bay Area Investigative Unit show Public Works vehicles exceeded their maximum allowable weight limit on at least 606 occasions over the past ten months.
'We Haven't Been Tying Them Down'
"We'll look at the data more closely to make the adjustments that we need to make," said Mohammed Nuru, Director of Public Works. "We definitely have been working with the information and the tips you've given us and we are going to do better."
Nuru, who has been employed by Public Works for 19 years and has been at the helm of the department for 7 years, appeared surprised to learn of California's safety requirements that govern his fleet of roughly 350 street-cleaning vehicles.
"If you're informing me that state law says that I should have my trucks covered, then I would be glad to look at that and see what can be done to make sure that things are safer," Nuru said. "We haven't been tying them down and I'm not sure that the policy says that we always have to tie down stuff."
Error in Public Works Safety Manual Goes Unnoticed
Public Works' own safety manual specifies that cargo inside pickup trucks must be "properly loaded and secured with no less than two chains."
A spokesperson for Public Works, however, said the reference to "chains" in the department's Code of Safe Practices is actually a mistake that will soon be corrected since securing loads would require the use of straps or ropes, not "chains." The current version of the department's safety manual is dated June 2017, which means the error appears to have gone unnoticed for at least one year and seven months.
"I think safety is the number one priority at this department," Nuru said. "Everybody tries to work proactively to make sure that everyone is safe."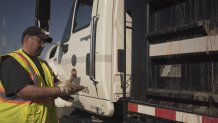 'Nothing Has Changed'
Long and Whitcomb tell NBC Bay Area they first brought their safety concerns to Public Works supervisors in 2014. During the past year and a half, they also filed complaints with San Francisco's whistleblower program and Cal/OSHA, the state agency that enforces worker safety laws.
"Nothing has changed," said Long. "It's just totally unsafe that these vehicles weighing what they weigh and how much garbage is there, are not tied down."
Cal/OSHA confirms it launched its own probe into potential safety violations on Feb. 5. The agency has the authority to mandate safety changes and could issue tens of thousands of dollars in fines.
Nuru said he was unaware of the pending investigation and added he has never been told of employee complaints relating to such safety violations.
"I, personally, have not been informed or have had complaints brought to me as the leader of this agency," he said.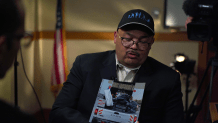 'The Rules … Are for Everybody to Follow'
The kind of debris that can fall off a moving vehicle accounts for about 50,658 crashes, 9,805 injuries, and 125 deaths each year, according to a 2016 study by AAA.
"The rules and the laws aren't just for private citizens, they are for everybody to follow," said Michael Blaskey, a representative of AAA.
Blaskey said safety laws concerning the proper securing of cargo should be common knowledge for any business or government entity that regularly relies on vehicles to transport cargo, including trash.
"They should always be secured or tied down, if you're traveling with loose materials," he said.
During the undercover investigation, NBC Bay Area captured hours of video and dozens of photos of overloaded and unsecured trucks and shared the findings with Blaskey.
"I see a microwave. It looks like an old door ... there's nothing to stop it from, from falling off the back," he said. "You hit a pothole and suddenly this thing's bouncing out of the back of a truck."
San Francisco Spends $72 Million Cleaning Streets
With its $72 million street-cleaning budget, San Francisco often outspends other larger cities by the millions, including Los Angeles and Chicago, when it comes city-wide cleanup efforts.
Long and Whitcomb believe San Francisco Public Works is being mismanaged.
"I'm one of the guys who go out there and clean it," said Long. "It's just embarrassing that it has to be this way when there are better ways of doing it."
'That's Why Our City Used to be Cleaner'
Part of the problem, he says, is that the city is now using fewer large garbage trucks, known as "packers," which can compact trash and carry up to 12 tons of garbage. Packers used to be more plentiful in San Francisco. Smaller pickup trucks unloaded their garbage into the packers and went back to picking up trash in the area. At the end of the day, the packers then traveled to the dump to unload all their trash.
In 2013, San Francisco Public Works utilized five packers, while only two of the large trucks are regularly used today, according to records from the truck driver's union.
With fewer packers in use, smaller pick-up trucks must spend much of their time traveling across town to the dump to unload their trash, which means less time picking up actual garbage.
"That's why our city used to be cleaner and it isn't anymore," Long said. "This is a big part of it."
Public Works Pledges New Safety Changes
Nuru says his department is considering various changes relating to the city's street-cleaning division, including outfitting vehicles with new barriers to secure trash, and providing additional safety training to employees.
"Since you started this story, we've been looking at it closely," Nuru said. "We definitely do not want to break any laws and we definitely want to make sure that things can be done better, and so we are starting to look at that."
Pete Whitcomb and and James Long are skeptical.
"It's our job as workers to bring up safety issues to management and it's their job as management to make things right," Long said. "They're not doing that."
"I don't feel safe with my kids walking these streets because of what they do," Whitcomb said. "They're putting the public in danger every day."
______________________________________
Need to contact our Investigative Unit?
• You can remain anonymous
• 1-888-996-TIPS
______________________________________
.full-width .embed, .full-width .embedded.cm.embed{ text-align:left; }
Watch the entire series of this NBC Bay Area investigation: